A Georgia woman has had a last minute reprieve from being executed for the second time in under a week due to problems with the drug that was to be used to kill her.
Kelly Gissendaner, 46, was due to die by lethal injection at Jackson prison in Georgia but the drug used in Georgia - pentobarbital - was cloudy so the execution was cancelled at the last minute.
A Department of Corrections spokesman told the Gwinnett Daily Post: "Prior to the execution the drugs were sent to an independent lab for testing of potency. The drugs fell within the acceptable testing limits. Within the hours leading up to the scheduled execution, the execution team performed the necessary checks. At that time, the drugs appeared cloudy.
"The Department of Corrections immediately consulted with a pharmacist, and in an abundance of caution, inmate Gissendaner's execution has been postponed."
The stay of execution came so late that Gissendaner had apparently already eaten her 3,400 calorie final meal - which included Burger King Whoppers, two large orders of fries, cornbread, a salad drenched in buttermilk dressing, popcorn and cherry-vanilla ice cream.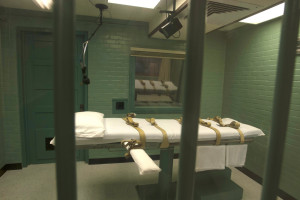 Last week Gissendaner's execution was postponed because of an approaching winter storm. No new date for her execution has been given.
Gissendaner's case has caused an outcry because she didn't kill her husband Douglas - he was stabbed by her boyfriend Gregory Owen. At trial the pair were advised to accept a deal not to apply for parole for at least 25 years. Gissendaner refused, so Owen testified against her and as a result was spared the death penalty. He could be released in eight years' time (2023).
Gissendaner's lawyers have appealed to Georgia's State Board of Pardons and Paroles on her behalf, claiming she had found faith and become rehabilitated. They also pointed out that on four previous occasions in Georgia where the condemned person did not commit the act themselves the death sentence has been commuted.
Two of the three children Kelly had with Douglas Gissendaner wrote pleading with judges to spare her life. Douglas's sisters and other family members wanted the death penalty to be carried out.
The Kelly Gissendaner case has become a cause celeb on Twitter, with 70,000 signing a petition to spare her life. Over 100 protesters gathered outside Jackson prison and riot police were stationed at the facility.
Since capital punishment was reintroduced in the US in 1976, 1,402 people have been put to death including 16 women. 32 of the 50 states currently allow the death penalty.
In those states where capital punishment is legal, a variety of methods are in use including lethal injection, firing squad and the electric chair. However due to a number of botched executions and bans on the import of drugs from abroad it is becoming ever more difficult to carry out the death sentence - so much so that some states are considering bringing in gas chambers.