TLC ran a documentary called The Secret Santa, which investigated the mysterious miraculous gifts that showed up in random people's doorsteps, thus making it into a sentimental Christmas movie.
The two-hour film which aired on December 14th followed the trail of a mystery figure associated with a string of Christmas miracles across the country, and featured first-person accounts and extraordinary home videos that will make you wonder if Santa Claus real.
A Phoenix reporter's investigation on such random acts of kindness, led her to a man called Lucas A Nast.
Nast has a strong resemblance to Santa Claus with white hair and beard, and a jolly smile. He worked for the post office's 'Letters to Santa' programme, reported inquisitr.com.
However, it appeared that Nast was actually granting Christmas miracles across the country, in whichever state he happened to be that year.
Going by the documentary, all of America actually wants to believe that Santa is for real and that Lucas A Nast is wandering the country doing good deeds.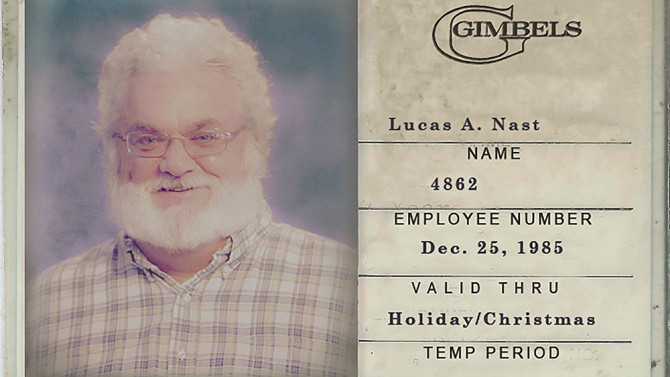 Sadly, it appears that The Secret Santa is just another faux-documentary like Mermaids, which fooled many viewers into believing that mermaids were real.
One writer from Variety said that the fake documentary should land TLC on the "naughty list."
NY Daily News called it a heartwarming holiday tale with no bad guys, but it also said that, "the mockumentary framing does slow the story at times, without adding enough new dimension to fully compensate."
However, it seems that a lot of people were fooled into believing Lucas A Nast was real, and social media is filled with tweets asking if the #SecretSanta story is real.
Here are a few tweets:
If you're not watching #TheSecretSanta on TLC right now you're living your life wrong. I don't even care if it's fake. It's so awesome.

— Ęłłå (@EllaNHerDreads) December 25, 2014
Watching #TheSecretSanta glad I'm not the only who has seen him once in my life. Not like they have but I seen him. Santa is real. — Amanda (@Banes_Girl2807) December 25, 2014
@Pie_Fair U know where but been stopped by #TheSecretSanta! Thank you, left a comment and am now so behind!!!! Luv u!

— SassyGran (@DilleyPat) December 25, 2014
SANTA IS REAL WATCH #TheSecretSanta AND YOU'LL BELIEVE. This documentary is crazy asf — Alice Elaine☾ (@alicemontano14) December 25, 2014
SANTA IS REAL WATCH #TheSecretSanta AND YOU'LL BELIEVE. This documentary is crazy asf

— Alice Elaine☾ (@alicemontano14) December 25, 2014
#TheSecretSanta on @TLC has me in tears right now!! #specialmoments this is a great movie! — Rebecca Bond✨ (@rbond0072) December 25, 2014
I love the show #TheSecretSanta

— sheila tadina (@SheilaTadina) December 25, 2014
I hate you TLC! You had me for a second there. #TheSecretSanta — Andy Kern (@AndyKern17) December 25, 2014
Made my family watch #TheSecretSanta about three times tonight.

— Merry Christmas (@camocabin) December 25, 2014
if you like crying on Christmas I recommend you watch #TheSecretSanta — Letidings to you (@lecheesia) December 25, 2014