Christmas 2015: Chaotic scenes as drunken revellers take to the streets for 'Black-eye Friday'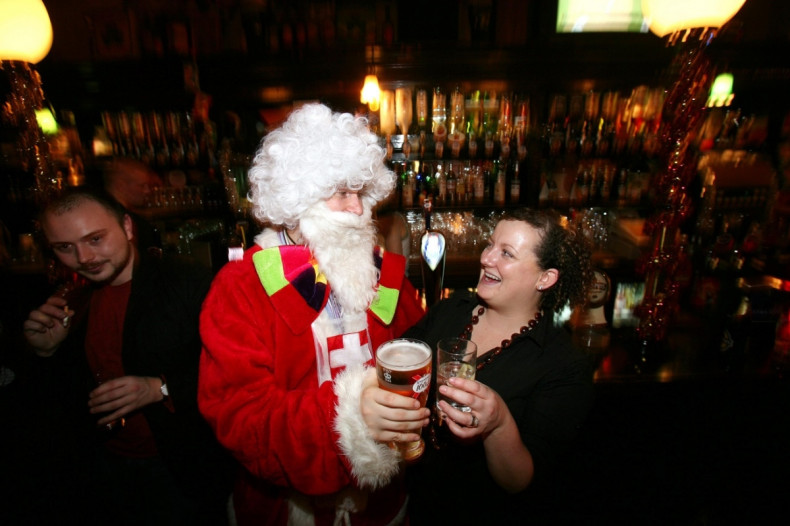 There were chaotic scenes in towns and cities across the country last night as drunken revellers took the streets on an evening police have nicknamed "Black-eye Friday". The last Friday before Christmas is traditionally a busy night for police thanks to office parties and tens of thousands of workers hitting the pubs straight from work – many of them without having eaten before drinking.
Cells in Plymouth are understood to have been completely full by midnight, with officers forced to pack three vans with arrested people until an alternative detention centre could be found. Meanwhile, hospitals in Cardiff were so overwhelmed with arrivals that paramedics set up a triage unit on the streets to deal with minor injuries and assess who genuinely needed hospital care.
Photographs of the countrywide carnage have been widely shared on social media and show people fighting, running away from police and vomiting in the streets. People wearing festive outfits were pictured covered in blood and passed-out revellers seen receiving emergency medical attention.
While police across the country were quick to crack down on violence and criminal behaviour, they were keen to avoid being seen as killjoys and getting in the way of people letting their hair down at the end of the year. Superintendent Jane Banham of North Wales Police was quoted by MailOnline as saying: "We know from experience that at this time of year some people will come to harm due to alcohol excess and it is the emergency services and local councils who are left picking up the pieces.
"We make a significant contribution to keeping our town centres safe so people can enjoy a good night out. But we must get the message across that people need to take greater responsibility for themselves and their friends to reduce the likelihood of them being injured, becoming a victim of crime, or being involved in violence through excessive drinking," she added.
Also known as "Mad Friday", the last Friday before Christmas is notorious for heavy drinking and the violence and criminal behaviour that often goes hand-in-hand with that. Adding to general high spirits over the festive period, the day also marks the beginning of the Christmas holiday for many.
While most companies now hope to limit the chaos by holding their official Christmas parties in the middle of the week or earlier in the month, many British workers still head to the pub immediately after work on Friday. With some companies allowing their employees to leave earlier than usual, pubs are often packed with festive drinkers by 5pm.
With many drinking far more than usual and missing dinner in the process, the night's first casualties are seen in the early evening. It is estimated that alcohol sales soar by 142% on "Black-eye Friday".
The crime rate also soars, with police officers expecting a dramatic increase in sexual assault, GBH, domestic abuse and drink driving. Thousands also end up in A&E with injuries ranging from gashes caused by violence to twisted ankles and alcohol poisoning.