Happy Birthday Christopher Lee: Count Dracula Turns 90
Sir Christopher Lee celebrates his 90th birthday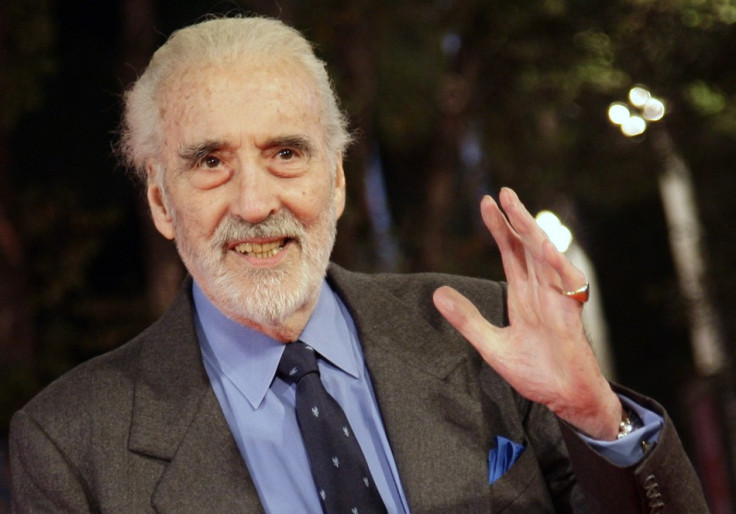 Iconic actor Sir Christopher Lee - whose repertoire of roles runs from Count Dooku in the Star Wars universe to Bram Stoker's legendary Count Dracula and includes that of the wizard Saruman, from the magical world of JRR Tolkein's Lord of the Rings saga - will celebrate his 90th birthday on Sunday. The actor is the living embodiment of the drama and passion that is cinema and holds the Guinness Record for most film acting roles ever - 275 - and he's still going strong!
Lee entered the industry in 1947, in the gothic thriller Corridor of Mirrors. However, he rose to fame after the role of Frankenstein's monster in Curse of the Frankenstein (1957). The film marked the start of Lee's long association with the producers - Hammer Films. In the succeeding years, Lee was cast in Horror of Dracula (1958), The Mummy (1959) and The Hound of the Baskervilles (1959); in fact, he played a string of Dracula films throughout the 60s and early 70s.
His portrayal of the bloodthirsty Count was the first adaptation of Bram Stoker's drama in colour and few, who have seen it, can forget his red bloodshot eyes. However, the actor himself rates his role in Jinnah - the biopic on the life of the founder of the Pakistani state, Muhammad Ali Jinnah - as the most important of his career, while that of Lord Summerisle, in The Wicker Man, as his favourite. Other key films include appearances in the Sherlock Holmes series and, in 1974, a role as the antagonist in the James Bond film The Man With The Golden Gun. Incidentally, Lee is a cousin to Ian Fleming, the author of the James Bond series of books.
He has also appeared in Tim Burton's Sleepy Hollow, The Corpse Bride, Charlie And The Chocolate Factory and the 2010 adaptation of Alice in Wonderland. The veteran actor will next be seen in Peter Jackson's films - The Hobbit: An Unexpected Journey and The Hobbit: There And Back Again - where he will reprise the role of Saruman.
© Copyright IBTimes 2023. All rights reserved.