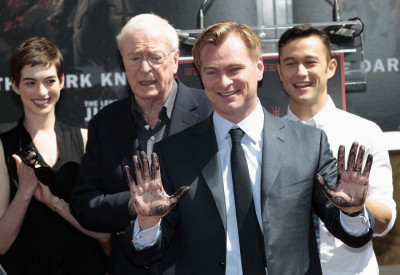 The Dark Knight Rises director Christopher Nolan has been given the honour of having his hands and feet cast in cement in the Grauman's Chinese Theatre forecourt on Hollywood Boulevard.
The honour, reserved for some of Hollywood's biggest names, has come early in the 41-year-old director's critically lauded career, making him one of the youngest to be chosen.
Nolan, whose final Batman film, The Dark Knight Rises, is due for release on 20 July, has enjoyed a rare career in which all of his films have received almost unanimous praise.
He was joined at the event by some of his latest film's cast, including Christian Bale, Anne Hathaway, Michael Caine, Morgan Freeman, Gary Oldman and Joseph Gordon-Levitt.
The Dark Knight Rises, which will see Bale's Batman come face to face with his biggest challenge yet in the form of Tom Hardy's Bane, is highly anticipated after the record-breaking success of The Dark Knight, which featured a career best by the late Heath Ledger.
Plot details for the film had been kept quite tightly under wraps, although the film's official site recently released a series of production notes, which reveal a few secrets.
Although it is not known what Nolan will take on as his next project, he has hinted that he would be interested in a James Bond film, a style which he referenced heavily in the latter scenes of Inception.