When we think of Indian cuisine in the UK what usually comes to mind is the cheap and cheerful curry houses that line the streets from Brick Lane to Bradford.
But The Cinnamon Club, located in the old Westminster Library in Central London, offers something a little different. This is fine dining, Indian style.
"We use the western concept of having an entire meal, having a proper meal for one person, rather than everyone sharing everything, which is what you basically do at curry houses," says Rakesh Ravindran Nair, head chef at The Cinnamon Club.
"When we started we wanted to change that concept and have individual attention to each plate," he adds.
Just a stone's throw from the Houses of Parliament, The Cinnamon Club has over the years been frequented by politicians such as former Prime Minister Gordon Brown and current mayor of London Boris Johnson.
The restaurant's popularity with the rich and powerful shows how much the idea of Indian cuisine has been transformed in recent years.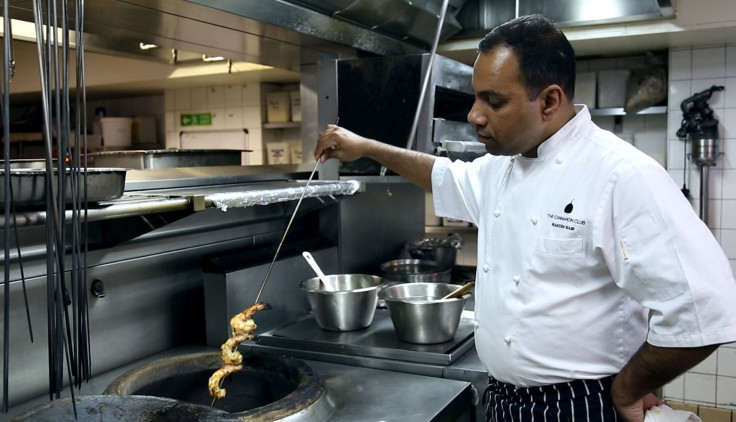 With 12,000 Indian restaurants dotted around the country, Britain's curry industry contributes an estimated £4.2bn a year to the UK economy. But new immigration laws have restricted the number of talented staff from the subcontinent that Indian restaurants can bring in.
"We faced that situation a few years ago when the laws became very strict. It was nearly impossible to bring in people from India and Asian countries" admits Nair.
"To get around it we decided to recruit and train the local talent available to us. We started recruiting a lot of apprentices and people at the entry level who hardly have any experience of Indian cooking, spices and flavourings.
"It was a totally new experience for them. But we realised in a few months time they can be brought up to the same level as those already working in the kitchen. So that's what we do now," he adds.
Despite these challenges, upscale Indian restaurants like The Cinnamon Club continue to grow in popularity. So if you're looking to upgrade from your Korma or Tikka Masala, you may want to give Indian fine dining a try.