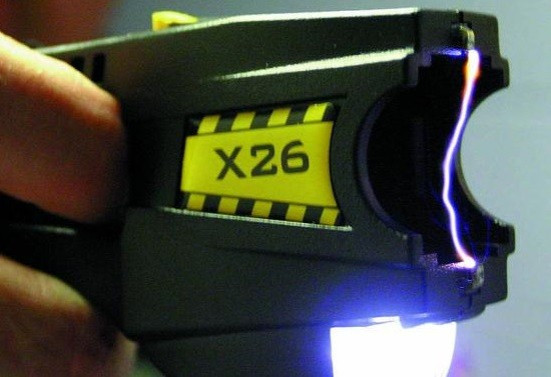 The city of Haskell in Arkansas is being sued after a police officer allegedly tasered a woman for refusing to show him her breasts.
Ashlea Bennett claims officer Brandon Carter attacked her with his Taser in December 2011.
According to the Court News Service, Carter chased Bennett through her workplace in Haskell with the taser because she would not comply with his sexual demands.
She said the officer "demanded that she expose her breasts to him" after he came into her workplace in his uniform.
He is alleged to have demanded Bennett show him her breasts "multiple times" but she refused.
"That, upon her refusal, Carter drew his City of Haskell-issued electroshock taser weapon from his utility belt, pointed the weapon at plaintiff, and threatened to deploy the same against her if she would not expose her breasts to him," the lawsuit said.
Police ignored complaints
"Upon seeing the threat of unlawful force, the plaintiff took physical flight and ran from Carter."
The documents say Carter then chased Bennett through her workplace and "activated and deployed his electroshock taser weapon in 'drive stun' mode numerous times at or directed at the plaintiff".
"Carter did these actions with the intention of causing fear, imminent fear of bodily harm, and/or emotional distress to gain the plaintiff's compliance with his sexual demands," it continued.
As well as chasing her with a Taser, Bennett also claims Carter visited her workplace on numerous occasions and made "inappropriate sexual comments".
Bennett is seeking compensation and damages for civil rights violations, assault, failure to train and supervise and negligent supervision for ignoring her previous complaints.
She says the police force was aware, or should have been aware, about the complaints made against Carter in relation to his behaviour, including his sexual actions.