More than 70,000 US middle school and high school teachers are teaching their students that climate change is not a result of humans, a survey found. The first US nationwide investigation into how children are taught about climate change, found that 54% of teachers tell their students that climate chance is caused by burning fossil fuels.
Research published in the journal, Science, found that 16% of science teachers in the US personally believe that global warming is just a natural event, and humans have had no impact upon it. This is despite 95% of climatologists accepting that humans have caused climate change by burning fossil fuels, and adding greenhouse gases to the atmosphere.
"At least one in three teachers bring climate change denial into the classroom, claiming that many scientists believe climate change is not caused by humans," said study researcher, Josh Rosenau. "Worse, half of the surveyed teachers have allowed students to discuss the supposed 'controversy' over climate change without guiding students to the scientifically supported conclusion."
Rosenau adds that the most scary part of the investigation was discovering 60% of teachers were unaware of the entire scientific evidence supporting its theory on climate change.
More than 1,500 science teachers were surveyed in the investigation from every single state in the US, taken as a sample of the 175,000 science teachers across the country. The teachers were all from middle and high-schools (teaching children from 11 to 17-years-old).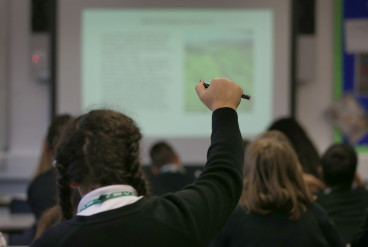 For the survey, teachers had to state whether they "strongly agree", "agree", "disagree", or "strongly disagree" with the following statements, with regards to how they teach climate change:
[...] The scientific consensus that recent global warming is primarily being caused by human release of greenhouse gases from fossil fuels.
[...] That many scientists believe that recent increases in temperature are likely due to natural causes.
The results showed 54% of teachers teach their students that climate change is caused by humans burning fossil fuels, and do not mention the natural process theory. Some 31% teach their students about both theories.
Towards the other end of the spectrum, 10% teach their students that global warming has nothing to do with humans, and the climate is naturally changing. Assuming the sample reflects the nationwide opinion, that means that more than 70,000 teachers allow their students to discuss the possibility that global warming is not man-made.
The remaining 5% chose to avoid the subject altogether.
Rosenau said: "The combination of limited training and uncertainty about the scientific consensus affects teachers' acceptance of anthropogenic climate change. Although only two percent of teachers personally denied that recent global warming is happening, almost one-sixth [15%] believe that it is mostly driven by natural causes."
The researchers said that they were disappointed with the number of teachers introducing the theory of natural causes into their teaching. However, they believe there is still cause for optimism as a large number of the teachers expressed a keen interest to learn more.
Minda Berbeco, co-author of the study, said: "It's clear that the vast majority of surveyed teachers are hungry for additional professional development. Even half the teachers who deny the scientific consensus on climate change say they would take training [to change that]."
Rosenau summarised: "Teachers didn't create the polarised culture war around climate change, but they're key to ending this battle."