CM Punk fears for future after losing to Mickey Gall at UFC 203
CM Punk made his MMA debut at the UFC 203 event.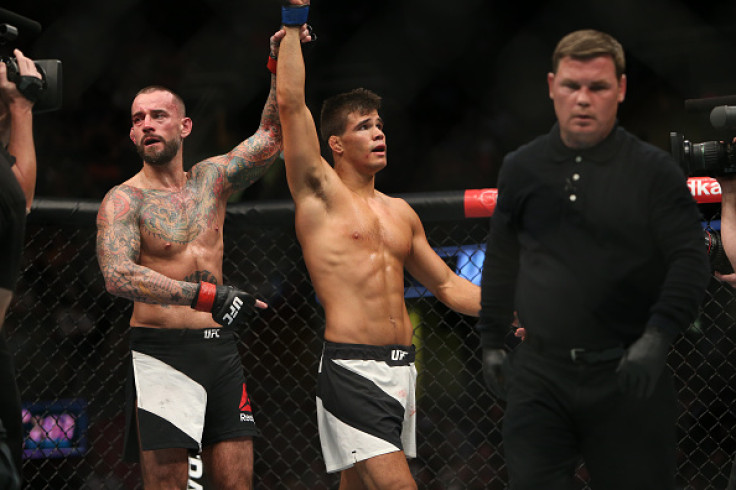 Former WWE wrestler CM Punk's Mixed Martial Arts (MMA) debut did not go according to plan as he suffered an embarrassing defeat at the hands of Mickey Gall at UFC 203. The veteran lost to Gall in just 2 minutes and 14 seconds after submitting to a rear naked choke at the Quickens Loans Arena in Cleveland, Ohio on Saturday (10 September).
With his debut match in UFC done and dusted, Punk knows that he lost an opportunity to make an impression. And, now he fears that his first fight could be his last, given his performance at the Octagon on Saturday night. Punk though has not got any indications from the authorities regarding such a move.
"I don't know what happens from here on out, what if I get the cut? I think that's a possibility? Do I want that to happen? No. But who's to say where I go from here? I haven't talked to UFC President Dana White about the fight. But it's not like I fought a good fight", Punk said, as quoted by MMAJunkie.
Punk, who dominated the wrestling scene at the WWE for a number of years, signed with the UFC way back in December, 2014 and was scheduled to make his debut in 2015. The 39-year-old then suffered a shoulder injury which pushed back his debut match after which he underwent surgery for a herniated disc.
However, Punk has maintained that he wants to build a career in UFC and will keep on fighting if given the chance.
"I definitely want to keep on going. I just fell of a bike. I'm not going to shelve it and leave it in the middle of the street. I've got to get back on the ride. I'm just really, really hard on myself. I lost and it sucks and it was lopsided and it's upsetting. But I know I'm better than that. I wanted to win, I wanted to perform. It didn't happen", the fighter added.
Meanwhile, Dana White, president of the mixed martial arts organisation, has hinted that Punk shouldn't have his next fight in UFC. However, no decision over the fighter's future has been confirmed as yet.
© Copyright IBTimes 2023. All rights reserved.