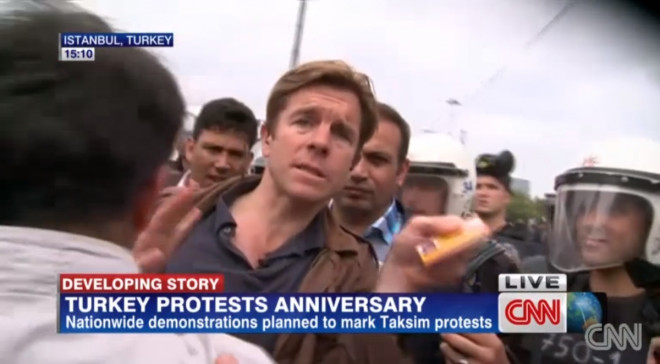 Turkish Prime Minister Recep Tayyip Erdogan has accused CNN International's correspondent Ivan Watson, who was harassed and detained live on air during the Gezi Park anniversary protest in Istanbul, of being a secret agent.
In a further sign that he is tightening his rhetoric against foreign media, Erdogan said: "CNN International made an eight-hour broadcast during last year's Gezi events. Why? To stir trouble in my country.
"This year they've been caught red-handed. Those don't have anything to do with independent and impartial media. They've been given tasks. They are agents."
Watson had just finished explaining that police had sealed off central Istanbul, to prevent demonstrators from being able to lay flowers at the site of last year's anti-government protests, when he was detained by officers.
While the camera was still rolling, the officers asked for Watson's press credentials and passport. Then, he was kneed in the back. The reporter told anchor Errol Barnett: "Errol, we're being detained right now".
CNN's microphone was also broken by police as they wrestle it out of the hands of the cameraman.
"Turkish police released CNN team after half an hour. Officer apologised for another officer who kneed me while I was being detained," Watson tweeted later.
In the weekly address to the ruling Justice and Development Party (AKP), Erdogan also defended the police's attitude during the crackdown on the Gezi anniversary, which took place on 31 May.
Some 25,000 police officers, 50 water cannon trucks, a large number of armoured vehicles and helicopters were deployed to prevent any gathering in Taksim Square.
Officers used water cannons, teargas, rubber bullets and batons, leaving several protesters injured and detaining over 150 people.