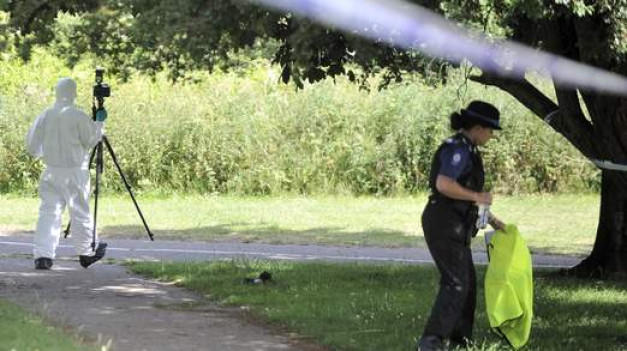 Police investigating the murder of Saudi student Nahid Almanea are keen to speak to a man who was seen running close to where she was killed.
Ms Almanea was stabbed 16 times while walking along a path on Tuesday morning on her way to the University of Essex, where she was studying.
The man was spotted coming out of an alleyway, which links to the Salary Brook Trail, where the 31-year-old was found stabbed to death.
Police have released a description of the man, who is said to be aged between 18 and 25, of medium build and with dark hair. He was wearing a long sleeved, plain hooded top that is described as 'London bus red,' with dark trousers.
In a statement, Detective Chief Superintendent Steve Worron said police also wanted to hear from anyone who could help identify a man wanted for questioning over an earlier attack on a woman in Peache Road, Colchester, at around 10pm on June 19.
"The location of this attack, and some aspects of it, including reports that a knife was seen and the victim was a woman, mean that this suspect is also of interest to the Almanea investigation," he said.
The attacker was described as white, in his early 20s, and around 5ft 7in to 5ft 8in tall. He was of medium build and had a narrow face, appeared unwell, and possibly had fair hair.
Police have said that the murders of Nahid Almanea and 33-year-old James Attfield, who was stabbed more than 100 times in a park in Colchester in March, bear "obvious similarities."
Experts have claimed that two murders, involving multiple stabbings in the space of three months could indicate that the town of Colchester in Essex could be hosting a crazed knife killer; however police said it is not yet clear whether the two killings had been carried out by the same person
"A criminal profiler from the National Crime Agency has carried out a thorough assessment of all the evidence in connection with both murders," Detective Chief Superintendent Worron said.
"A decision has been taken that they remain separate but parallel investigations at this time. However the circumstances of both crimes mean that we must consider the possibility that the same killer or killers are responsible."
Police have urged the public to remain vigilant and have warned against going out alone following the attacks.
"Our advice to people is that we have now had two knife murders in Colchester in less than three months where the motive for the attacks remains unknown," he said.
"Both of these attacks were on lone people who were in locations where it appears no one else was nearby at the time.
"For that reason we would remind people to take sensible precautions to stay safe. This includes avoiding any situations in which you could find yourself isolated and alone in a public area."
Superintendent Steve Ditchburn said extra patrols were being carried out across the town.
Anyone with information is asked to contact the Major Investigation Team on 01245 282103, Essex Police on 101 or contact Crimestoppers, anonymously, on 0800 555 111.