Colombia: Farc suspends ceasefire after military airstrikes kill 26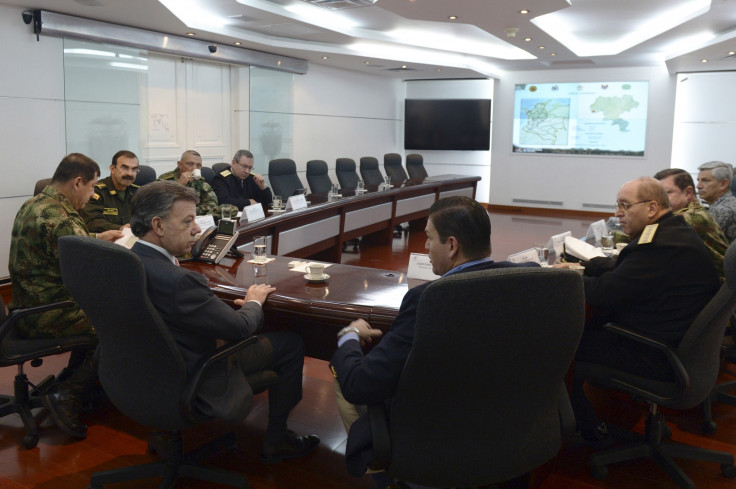 Colombia's Farc guerrilla rebel group suspended a unilateral ceasefire after a military airstrike and land attack killed 26 of its members. The ceasefire had been in place since December 2014, the BBC reported.
The group stated that it wanted a bilateral ceasefire called and reiterated that it would not abandon continuing peace talks with the government in Havana, Cuba.
According to the BBC, the rebel group said that they suspended the ceasefire after "five months of land and air offensives against our structures all over the country". The latest attacks, which occurred on 21 May in the south-western region of Cauca, was the deadliest since air strikes against the rebels resumed in April.
"We deplore the joint attack by the air force, the army and the police," Farc said in a statement. "We feel pain for the deaths of guerrilla fighters as well as soldiers, sons of a same people and from poor families."
Farc stressed they remained willing to continue peace negotiations. "Against our will we will proceed with the [peace] talks in the middle of a confrontation," the group said.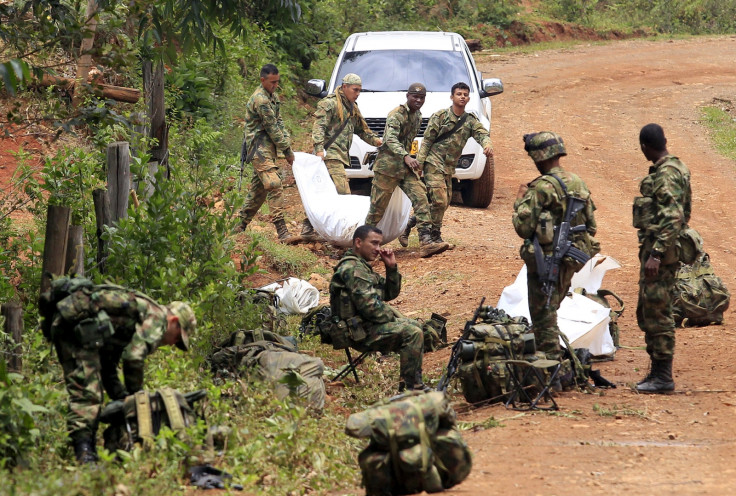 Colombian soldiers carry the body of a comrade killed after a rebel attack in La Esperanza village April 15, 2015. Colombia's President Juan Manuel Santos ordered the resumption of bombing raids against FARC rebels on Wednesday after an attack he blamed on the group killed 10 soldiers, a move that will intensify combat after efforts to cool tensions.
REUTERS/Jaime Saldarriaga
The Colombian government and the Farc have been in continuous on-off negotiations since 2012, the BBC reported. The conflict between the two has spanned over half a century. The peace talks between the waring sides have hit several roadblocks in the last couple of months.
According to the BBC, the rebels captured a high-ranking army general in November and attacked an army unit in April. Eleven members of the army unit were killed, while the army general was later released.
Colombian President Juan Manuel Santos ordered the airstrikes to resume after the 11 soldiers were killed. Santos took to Twitter to address the Farc: "Gentlemen of the Farc: now is the time to speed up the negotiations. How many more deaths do we need to understand that we have arrived at the time for peace!"
Vice News reported Santos confirmed the recent attack on the rebel group on Friday from his office in Bogota. Santos said the deaths were a "result of clear and forceful action against narco-trafficking, illegal mining and extortion". All of those are known sources of income for the Farc, Vice News noted.
The recent setback of ceasefire suspension could indicate an intensification in the centuries-long conflict, although some analyst said it could result in a bilateral ceasefire.
© Copyright IBTimes 2023. All rights reserved.