Juan Manuel Santos, the Colombian president, has defended his government's response to the landslides that hit Mocoa city on Saturday (1 April) saying that the relief efforts were provided soon to the people hit by the disaster.
He also said that his administration sent rescue workers within hours of the calamity to save those affected.
The president's comments came after he faced criticism for slow response and lack of planning, but the leader said that it was natural for tragedy-hit people to "blame and be anxious".
"Of course they would blame the government," he told the BBC, adding that how quickly he and his government responded after the disaster "have no precedents in Colombia or in many other disasters in the world".
Saturday's landslides came after a night of heavy rain, which raised the water levels of the Mocoa River and three tributaries, sweeping away entire neighbourhoods.
According to reports, the death toll has reached 273, while more than 300 people are still listed as missing.
President Santos has declared an "economic, social and ecological emergency" adding that the government was spending 40,000m pesos ($13.9m, £11.1m) towards "addressing humanitarian priorities".
He also said that new systems were placed following the deadly floods in 2010 due to the La Niña climatic phenomenon."We have a system, which we have been elaborating and creating after the phenomena of La Niña, which was the worst natural disaster at the beginning of my government, and the system is working.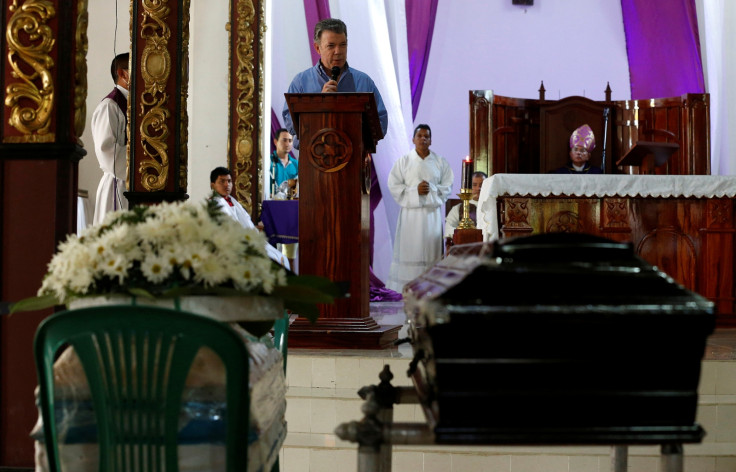 The 65-year-old Nobel laureate has also blamed climate change, caused by richer countries, for the disaster.
"Rich countries are the ones that have created climate change more than poor countries. All the world is vulnerable to climate change, but a country like Colombia is especially vulnerable because of our geography and location," he said.