Colorado police bodycam shows officer's split-second decision to shoot suspect armed with AR-15
Deputy Brad Proulx was confronted by the armed man during what was a routine traffic stop.
Douglas County Deputy Brad Proulx was travelling south of Denver during the early evening on Friday (12 May) and stopped when he spotted a white SUV parked at the side of road.
The body camera video shows the deputy walk over to the passenger window, before strolling around to the driver to see if he needed help.
But the six-year police veteran was suddenly confronted with the suspect lunging towards him as he held an assault rifle.
Within seconds Deputy Proulx can be seen opening fire with his sidearm as he falls back to the ground, hitting the car door and the man.
Other officers arrived to the scene – near County Line Road and South Santa Fe Drive – and the suspect, later named as 25-year-old Deyon Marcus Rivas-Maestas, was taken to Littleton Hospital to be treated for a gunshot wound to his arm.
He was transported from the hospital to the Douglas County Detention Center on Wednesday.
Investigators say his "AR-15 type" rifle was unloaded; he faces charges of first-degree assault, with police still investigating why he tried to attack the officer.
Deputy Proulx, who was uninjured in the incident, was praised by fellow officers for his actions.
"It certainly could have cost the deputy his life," Littleton police commander Trent Cooper told local news channel Fox31 after the shooting.
"You know, it just goes to show how unpredictable, how the situations are where this deputy thought he was making a courtesy traffic stop and helping a motorist in need and a short time later, he's involved in an officer-involved shooting."
Police say the footage could be used to train other officers to always be prepared.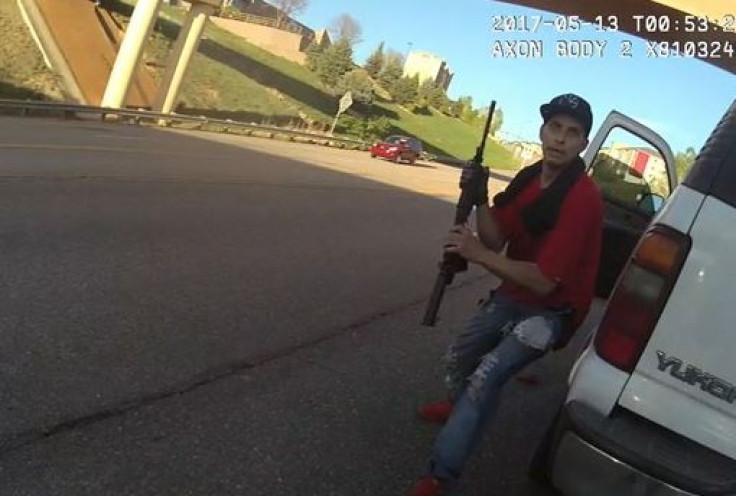 © Copyright IBTimes 2023. All rights reserved.