The death of a mentally ill unarmed black man at the hands of Tennessee police was broadcast live on Facebook. The family of Rodney James Hess, 36, said he suffered from bipolar disorder and appeared to be having an episode while driving.
His car blocked traffic on a highway last Thursday. Hess asked police if he could speak with their superiors, but they threatened him with an object and shot him soon afterwards.
The Tennessee Bureau of Investigation (TBI) said Hess refused to obey commands and tried to hit deputies with his car "at least twice".
Hess was shot by at least one officer through the windscreen and died in hospital.
The event was live streamed to Facebook and viewed by Hess's family.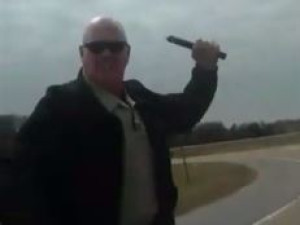 Hess's fiancé, Johnisha Provost, told the Commercial Appeal: "I was at work and my aunt called me and was like, 'Rodney is in trouble'. He was on Facebook and I logged on and I watched it."
In the video, Hess sounds asks several times to see the officers' "higher commands".
"He couldn't get his mind together," Provost said. "That's why he asked for a higher command.
"I always told him, 'Babe, if you are ever in a situation where you need help, ask the person in charge for the higher command to help you,' and that's what he kept saying."
Hess then moves and the camera records what are apparently gunshots, and then screams of pain. The car appears to move and the sound of it crashing can be heard.
The footage does not show exactly what happened during the shooting.
In another video, posted to Facebook before the shooting, Hess apparently walks around on the road and mutter incoherently, including about the CIA.
"He was not on a suicide mission," Provost told the newspaper. "He was not trying to harm anybody. He was asking them for help and they shot him down."
The TBI is aware of the video but told NBC: "We cannot confirm its authenticity. As with anything that might potentially be evidence, we will examine it to determine if it has probative benefit."
However, family members maintained it was Hess behind the camera and appealed for witnesses to the shooting.
His step-father, Lee Smith, said: "We're just praying that justice will be served; if there's anything that's covered up, that it will be brought to light; that it wouldn't be just another black man shot by police officers. All we're asking for is justice."
Hess was reportedly in the Alamo, Tennessee area to visit his mother.