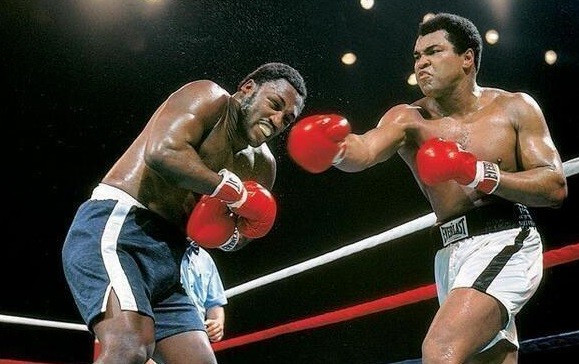 Legendary boxer Muhammad Ali was admitted to hospital on Saturday with pneumonia, said his spokesman.
"Ali, who suffers from Parkinson's disease, is being treated by his team of doctors and is in stable condition," Bob Gunnell said in a statement.
"The prognosis is good," he added. "At this time, the Muhammad Ali family respectfully requests privacy."
The infection was caught early and Ali's stay at an undisclosed hospital is not expected to be long.
His last public appearance was at a ceremony in September in his hometown of Louisville for the Muhammad Ali Humanitarian Awards.
Ali retired from boxing in 1981 and announced his diagnosis with Parkinson's disease three years later.
Some medical experts believe that blows to the head during Ali's 21-year professional career were a contributing factor to his condition.
But Dr Abraham Lieberman, the Medical Director of the Muhammad Ali Parkinson Centre, said that he was not completely sure what caused Ali to suffer from Parkinson's.
"It's only over the last 10 years that he's had a lot of trouble walking, with falls," he told BBC Radio Five Live's Sportsweek programme.
"So his course has been more that of typical Parkinson's disease. If you look at the MRI of his brain it looks pretty good but it's very difficult to factor in what sort of role did boxing play.
"People ask me about this and I tell them: look at George Foreman. He boxed longer than Muhammad did, took many more blows to the head and he's on television selling his cookware.
"I think that he (Ali) has typical Parkinson's disease. Did the boxing contribute? I don't know. It may have."
Ali, born Cassius Clay, and won three heavyweight titles. Soon after 1964, he converted to Islam and changed his name to Muhammad Ali.
He was known for his protest against the Vietnam War and refused to be drafted into service out of his religious convictions.
"I'm so mean, I make medicine sick!" #MuhammadAli pic.twitter.com/H3URbJE8zB

— Muhammad Ali (@MuhammadAli) December 17, 2014