Fake Cardinal follows Topless Lesbians in Second Vatican Security Breach [VIDEO]
Swiss guards alerted after secret meeting of cardinals in Vatican City interrupted by imposter in child abuse protest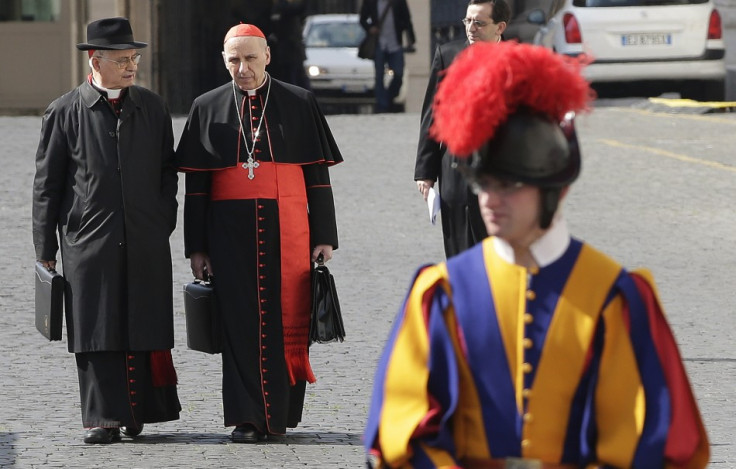 A man dressed up as a Catholic cardinal and tricked his way in to a secret meeting inside the Vatican.
It took time before he was rumbled as an imposter and removed from the meeting chamber by the Swiss Guard.
He shook hands with senior cardinals and chatted with priests who were in the Holy See for a behind-closed-doors meeting.
It was the second embarrassment in two months for the Catholic heirarchy. In January, a group of topless lesbians with the Femen radical group heckled the Pope in St Peter's Square, accusing him of homophobia.
Senior members of the Catholic clergy were gathering at the Vatican to elect a new Pope in the wake of the resignation of Benedict XVI.
Swiss Guards moved in after the man blundered by saying he belonged to a non-existent church called the "Italian Orthodox Church."
He was hauled out of the meeting in the Synod Hall by guards.
The man, who has not been identified, told reporters he was there to deliver a message about child sex abuse. He said the the Church "had made a mistake by moving priests" - clerics accused of sex crimes against children who were shuttled from parish to parish.
Steps to appoint a new pope have begun in earnest.
Click here for more on the pre-congregation.
Pope Benedict stood down from his post in February citing health reasons. He vowed to show "loyalty and obedience to his successor", words that were interpreted by some commentators as a bid to avoid becoming a focal point for dissent over a new pontiff.
Senior clergy hope that a new pope will be in place by 24 March, the start of Holy Week in the Catholic calendar.
© Copyright IBTimes 2023. All rights reserved.