A group of protesters have staged a demonstration outside the new Royal Liverpool hospital against alleged "blacklisting" of construction workers. Dozens of union members and construction workers were protesting against building firm Carillion over claims one of its subsidiaries, Crown House, used a secret database of "blacklisted" workers.
Members of groups such as Blacklist Support Group claim the firm refused to employ anyone whose details appeared on the list. Protesters say the names of those who had been blacklisted were mainly union members who had previously raised concerns over health and safety.
Police closed off the busy adjourning road, Pembroke Place, during the demonstration, which took place between 6am and 9am on Friday 4 September. Wavertree carpenter and executive committee member of the Blacklist Support Group Roy Bentham said: "This is a blight on our proud city. There has clearly been a grave mistake by the local NHS trust in appointing this discredited company. The only way they can limit this damage is by giving the workforce pay and conditions in line with national agreements and taking on blacklisted workers now."
Despite Crown House previously being found to have done so, Carillion denied using a database of blacklisted workers prior to the construction of the hospital. A spokesperson added: "Claims of blacklisting date back more than a decade when a former subsidiary business, Crown House, accessed information from a database operated by the Consulting Association. This was stopped voluntarily in 2004. We have apologised for our former subsidiary's use of the database and last year we were one of eight major construction companies which launched a compensation scheme to compensate workers whose names were on the database."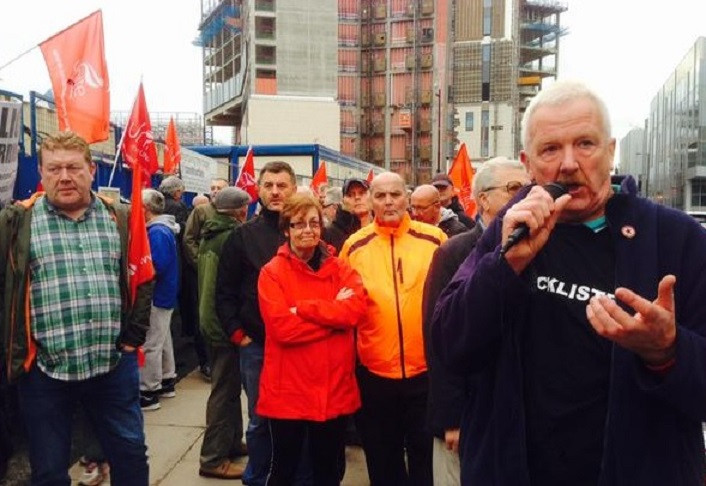 Aidan Kehoe, chief executive at Royal Liverpool and Broadgreen University Hospitals NHS Trust, said: "We have met with mayor Joe Anderson to discuss how the construction of the new Royal is in line with his ambitions for the city, with a commitment to the local community, providing employment opportunities for local people, and meeting a high standard for relations with workers on-site.
"The trust and the mayor of Liverpool's office will continue to work closely together as we build the city's new hospital. Carillion were appointed to build the new Royal, following procedures set out by the government and using a standard, government-approved contract.
"The trust insisted on adding to the contract targets for local employment and spending such as: 60% of the value of the project will be spent locally; 60% of the people employed during construction will be from local postcodes; 15% of these will come from priority council wards in the city and 100 apprenticeship opportunities over three years will be provided on the project. The contract also reinforces opportunities for work placements and entry level graduate positions.
"Both Carillion and the trust meet regularly with representatives from construction worker unions to work through any concerns they raise."