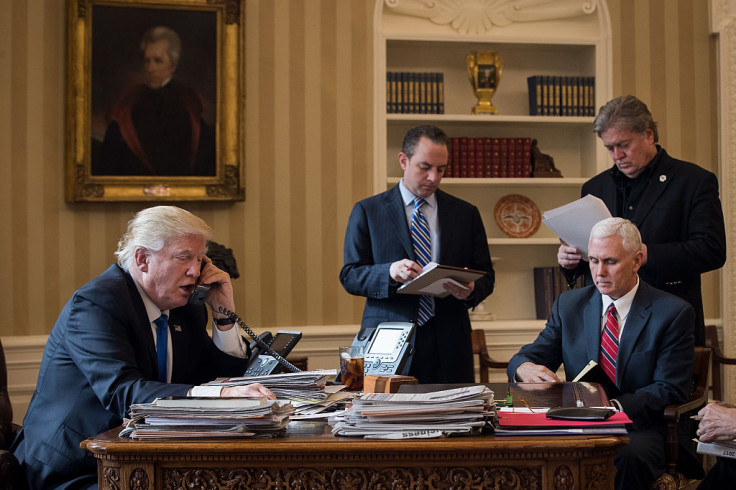 The alleged connections of Trump and members of his inner circle to the Kremlin continue to cause controversy.
Left-wing filmmaker and provocateur Michael Moore has waded into the debate, calling for Donald Trump to be arrested, after it emerged former National Security Advisor Michael Flynn secretly discussed US sanctions with Russia ahead of Trump's election.
Writing on Twitter, Moore said: "Let's be VERY clear: Flynn DID NOT make that Russian call on his own. He was INSTRUCTED to do so. He was TOLD to reassure them. Arrest Trump.
"TRUMP KNEW EVERYTHING. It will all come out. Along with the rest of Trump's collusion and obedience to Putin."
The New York Times citing intelligence officials has reported that several members of Trump's team had contact with Russian intelligence in 2016, while a notorious dossier – compiled by a former British MI6 agent – housed claims that Russia had compromising information that could be used to blackmail Trump. The president has fiercely denied the claims.
But could Trump, who is only a month into his tenure, be impeached as a result of alleged Russian connections?
Bookies have slashed odds on Trump's impeachment, and a petition calling for Congress to impeach the 45th president has gained nearly one million signatures. A Democratic congressional candidate filed paperwork with the Federal Election Commission (FEC) to create the Impeach Trump Leadership PAC, reports The Hill, which would campaign to unseat the president.
If Trump's team were found to have conspired with Russia to interfere in the election, experts believe this could constitute grounds for impeachment under anti-treason laws. Former NSA legal counsel Susan Hennessey told Forbes that "If sufficient evidence emerges that the FBI has substantiated the allegations or is preparing criminal indictments, then even hardline Republicans in Congress will likely call for [US vice president Mike] Pence to take the oath of office."
The US Congress must vote to impeach a US president, and the measure must be approved by at least three quarters of the senate for the president to be removed from office.
With Republicans currently holding a majority in both the house and senate and no verified allegations of Trump's collusion with Russia having emerged, this is unlikely to emerge soon.
However Republicans have backed calls for further investigation into the connections, with Republican Senator Roy Blunt, a member of the Senate Intelligence Committee, on Tuesday called for an exhaustive investigation into connections between President Donald Trump and Russia.