The cousin of murdered Palestinian teenager Mohammed Abu Khudair was allegedly assaulted by Israeli security forces during clashes between police and Palestinians protesting Khudair's killing.
Tareq Abu Khadair, 15, was reportedly punched and kicked by two police officers in an attack which was captured on amateur video in Jerusalem's Shufat neighbourhood.
Israeli police are investigating the mobile phone footage, which was released by a human rights group and shown on a Palestinian TV channel.
Israeli police spokeswoman Luba Samri said Tareq, who is a US citizen and attends school in Florida, was in possession of a slingshot which was used to fire stones at police, and he was detained with six other protestors during clashes on Thursday before Khudair's funeral.
Samri said Khudair resisted arrest and attacked police officers – a charge denied by the teenager's parents.
Tareq's mother Sohair Abu Khadair told Sky News that at least one officer did not want her to see her son at the police station where he was detained.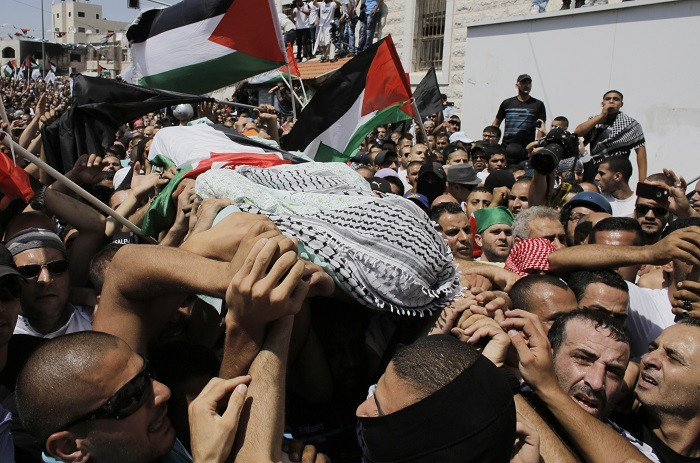 'There was a police officer in front of his room door that didn't want to let me in to see him until my husband had spoken to him,' she said.
'And then he finally said "you can go in, just don't touch him, don't speak to him. Don't get near him." He was handcuffed. His ankles were handcuffed to the bed. I was in a complete state of shock. I couldn't believe it.'
The Palestinian attorney-general Mohammed al-A'wewy recently revealed that Khudair, who was abducted and killed in East Jerusalem on Wednesday, was burned alive.
Al-A'wewy was quoted on the Palestinian official news agency Wafa as saying: "The direct cause of death was burns as a result of fire and its complications."
An autopsy carried out by Israeli doctors in Tel Aviv discovered dust in Khudair's respiratory canal, which suggested that he had inhaled the material while being burnt alive. The 17-year-old's body was also covered in 90% burns.
Palestinians believe Khudair was killed by extremist Israelis in response to the murder of three Jewish teenagers last month, which Israel has blamed on Hamas. The group denies any involvement in the killing of the Israeli youths.