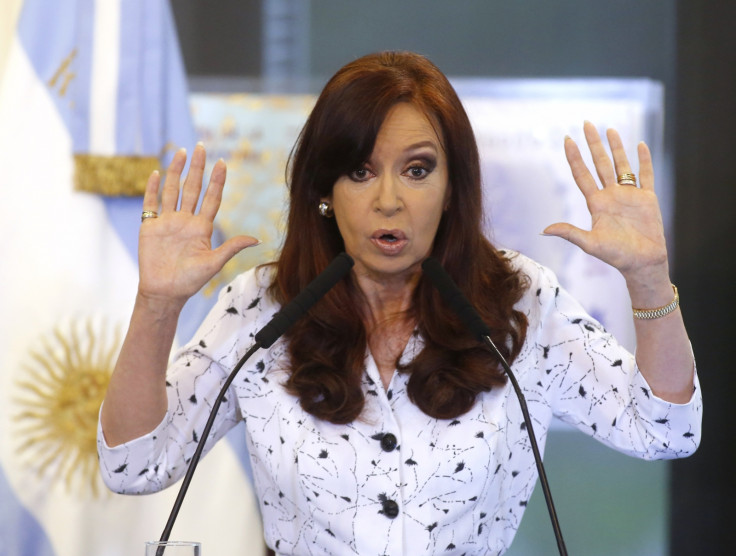 Former Argentinian president Cristina Fernandez de Kirchner (aka CFK) has been summoned by a federal judge to testify against accusations that her government lost billions of dollars by illegally trading derivatives at artificially low prices. On Friday Judge Claudio Bonadio made the request as he investigates allegations that the Argentinian central bank sold $17bn (£12.2bn) worth of dollar futures contracts at lower rates than Wall Street.
The former populist leader who led the South American country between 2007-2015 is set to appear for questioning on 13 April as the last of 13 suspects in the case. The former lawyers' allies took to social media to demand a mass protest at the federal courthouse.
Bonadio also summoned CFK's former economy minister, Axel Kicillof, and former central bank chief Alejandro Vanoli who are suspected in defrauding the public administration. According to reports Kirchner's administration the central bank routinely sold dollar futures to prop up the peso.
It was an attempt to halt huge inflation in Latin America's third-biggest economy and avoid another huge recession like the crippling Argentinian depression between 1998-2002. The investigation was triggered last October when two lawmakers filed a complaint alleging that the price at which the contracts were sold amounted to a serious financial loss for the South American nation.
During Vanoli's time at the helm, from October 2014 to December 2015, the central bank was selling March contracts at Arg$10.65 per dollar but on Wall Street these contracts were trading at between Arg$14-15.
The Buenos Aires-born economist has denied all wrongdoing and said the bank's interference in the highly volatile futures market were both transparent and in agreement with exchange rates projected in the nation's budget.
Some Argentines would like new President Mauricio Macri's administration to investigate suspected irregularities under Fernandez's government. And Kicillof rubbished the claims according to The Wall Street Journal.
"This case was pushed by people that are now in Macri's government," Kicillof said in an interview. "The case is baseless. They devalued and now they're blaming the cost of the devaluation on us."