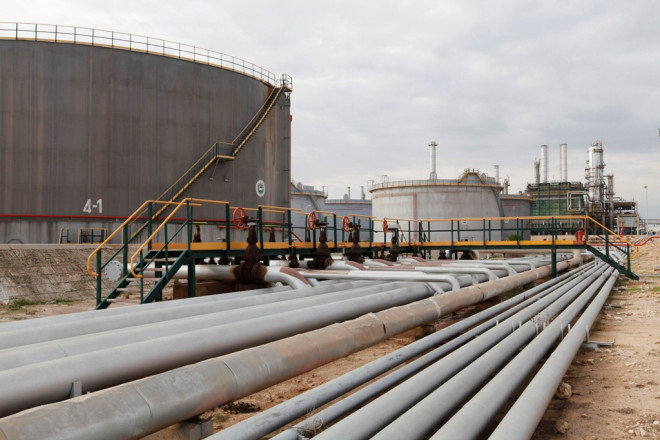 Crude oil futures finished higher on 28 February, and logged significant gains last month, as upbeat US economic data and extreme US weather all through February supported the demand for oil and oil products.
April US crude oil contract inched up 19 cents, or 0.2%, to finish at $102.59 a barrel on 28 February.
US oil futures shot up 5.2% in February, FactSet data showed.
April Brent crude oil contract inched up 11 cents, or 0.1%, to finish at $109.07 a barrel on 28 February.
Brent futures jumped nearly 3% in February.
Data released on 28 February showed that US consumer sentiment rose marginally in February amid harsh weather. Meanwhile, data also showed that the Chicago PMI rose by a fraction last month.
Together, the two sets of data counteracted downbeat US GDP data. The world's leading economy expanded at an annual rate of 2.4% in the fourth quarter of 2013, down from a previous estimate of 3.2%.
Concerns about global economic growth have restrained oil price movements in recent trading sessions, but that has been balanced against rising geopolitical tensions about Ukraine.
"For now, oil markets are reacting more to the prospects for slowing economic growth in China and lower crude throughput at US refineries" than to a survey finding that output from the Organization of the Petroleum Exporting Countries dropped in February, and to continued unrest in Ukraine, Addison Armstrong, senior director of market research at US-based Tradition Energy told MarketWatch.
Commerzbank Corporates & Markets said in a 28 February note to clients: "Brent slipped below $109 per barrel [on 27 February] and is also trading at this lower level this morning. We believe that Brent will continue to fall further towards the middle of the trading corridor of $100-110 per barrel over the next few weeks. This is suggested by the plentiful supply, the imminent end to the winter in the northern hemisphere and reduced crude oil processing by refineries while maintenance work is carried out. According to a Bloomberg survey, OPEC left its oil production virtually unchanged at 29.9 million barrels per day in February.
"Production cuts in Libya, Saudi Arabia and the United Arab Emirates were offset by increased oil production in Angola and Nigeria. OPEC is thus continuing to produce somewhat more than the annual average call on OPEC, which the International Energy Agency estimates as being 29.6 million barrels per day. Figures for seaborne OPEC shipments, as provided by the consultant firm Oil Movements, also point to an ample supply situation. In the four weeks to 15 March, they look set to climb by 430,000 to 24.38 million barrels per day."
"According to Oil Movements, the lion's share is set to be shipped to China, which indicates that oil demand there is still robust. According to the US Energy Information Administration (EIA), US oil production in 2013 grew by nearly 1 million barrels per day to 7.46 million barrels per day. This was the sharpest annual increase of all time, not to mention the highest production level since 1989. A similarly marked increase in production can also be expected for this year," the German bank added.