Two ex-Chiltern Firehouse chefs leading a rice revolution is how this restaurant is billed. Curio opened a month and a half ago with more than one long foodie feature about their rice. A well-received pop-up and the duo have set up shop on the magnanimous Kingsland Road ready with Chinese-inspired small plates.
The 34-cover interior is described as 'intimate' and in the evening summer warmth, an outdoor seating area increases the capacity to 60. Hop off at Haggerston and see if you can get a seat.
Our verdict
The best sharing restaurants are ones that don't make a huge point of being sharing restaurants. Ones where a waiter doesn't explicitly tell you that the menu is a sharing menu, ones where you know there are small plates and you can just make a decision yourself – if you want to be led through a meal, find somewhere with a tasting menu.
Curio Tata starts off well in this fashion. If you've done a bit of research you should already know that the rice is the main event and everyone needs a bowl; otherwise the plates are small and there to be picked at – they describe this as 'Chinese family style'.
But the perfect opening is a glass of Riesling that sits wonderfully with all the fish and has that Riesling sweetness that means you don't mind a sip before the food comes – though it doesn't take long. Two fat spring rolls, stuffed with shiitake mushrooms, alfalfa sprouts, vermicelli and a creamy, nutty sauce arrive – surrounded by an eggy wrap. The metal chopsticks are little help so grab and bite, with a careful napkin to stop the inevitable.
Aubergine comes next, braised and smothered in a fermented bean sauce – it tastes like a black bean sauce you might get anywhere but that's not an awful thing. The vegetables are tender and the sauce, though a little too sweet, is assuaged by the fact that the bowl is small. Small plates bring little advantages.
Address - 258 Kingsland Road, London, E8 4DG
Times - Thursday: 6pm - 11pm; Friday - Saturday: 6pm - 12pm
Twitter - @CurioandTaTa
Website - curioandtata.co.uk
Reservations - bookings@curioandtata.co.uk
Prices - Rice - £2.50; Our Spring Roll - £2.50; Amebi Tartare - £8.50; Raw Fish of the Day - £8.50; Aubergine - £5; Salt Cod - £9; Coffee Ice Cream - £5; Riesling (glass) - £6.50; Nikka from the Barrel - £6.
Next to that, an amaebi tartare, or shrimp to the rest of us. It's cold, fresh and covered in tobiko (fish roe), a crunchy topping that tingles with the horseradish tinged dressing. The day boat raw fish selection is mackerel, surrounded by sweet daikon – not a great mix, the mackerel overpowered and the taste lost in the sweetness.
Warm and ready is a salt cod covered in pil pil sauce – a Basque dish really, but they did say Chinese-inspired. It's forgiven because it's fantastic, just delicious, and there's enough sauce that you can drizzle it over the rice and continue to lap it up, oily and garlicky, muddled together with little plate love.
And the famous rice – it's really good, as they told the feature writers: it's a "high quality blend of short grain rice from northern Japan", they rinse it ten times and it comes with a dash of house dressing, a lovely leek and soy concoction.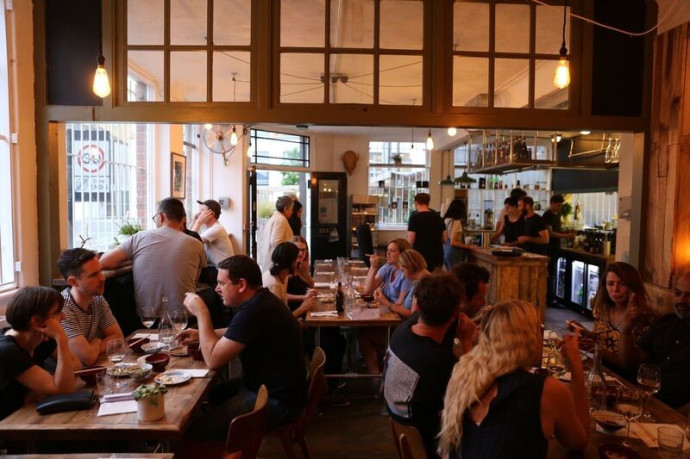 They don't have a digestif or spirit menu quite yet but they do have cocktails – so if you ask nicely a server will show you their selection and let you go a bit off-carte. The Nikka From The Barrel is an amazing choice that you can find most good places these days – Japanese whiskey still on an upward trajectory in the UK – the dark, heavy flavour adding to the coffee ice cream that was sensibly ordered to share between two. Whipped mascarpone covering the buttery ice cream, dotted around with tapioca balls – like you'd get in bubble tea – that are flavourless and chewy and serve just as an addition, somewhat needlessly.
The outdoor seating is perfect for the meal, this Thursday evening the interior of the restaurant is empty but a few tables are taken on the benches outside, covered over with wooden beams that fit with where we are. A budding art school carpenter, living somewhere nearby, might have a similar get up in their garden.
Inside, there is an air of things being unfinished here – a large tank seems to only have one tiny fish and, in the bathroom, the light doesn't work so peeing is by the flicker of candlelight. A month and a half on since opening and it's forgivable, but with the prices slightly high it won't make it an easy stop-off point. £73.12 (including service) is unreasonably costly for a meal of small dishes – while the spring rolls are fairly judged at £2.50, the salt cod (as good as it is) is a step too far at £9.
Maybe Haggerston's budding carpenters have the money. The food is good and the drink selection small but well-crafted, a step down in cost and us east London tourists would probably return.
NOTE: James Tennent paid for his own meal.