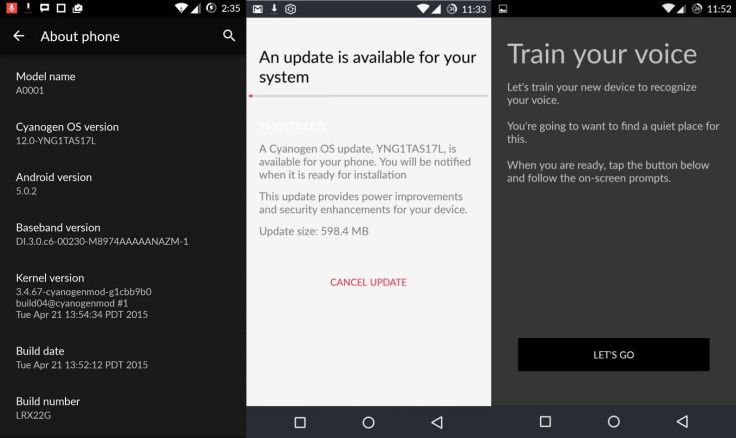 The Cyanogen OS 12 OTA update has resumed for the OnePlus One smartphone, allowing users to download a new build YNG1TAS17L.
The build includes the Ok OnePlus voice activation functionality and a few more fixes.
Changelog:
'OK ONEPLUS' Voice command is included
Google Services upgraded to 7.3.29
FIXED: Messaging app crashing on boot
FIXED: OTA fails due to encryption
FIXED: Improve Theme engine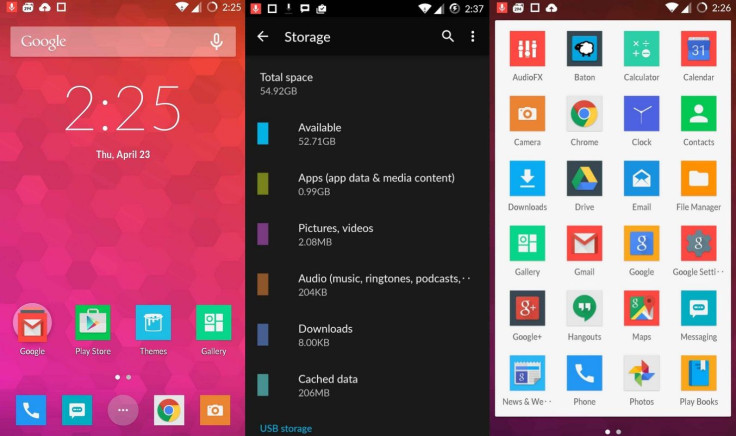 Members at the OnePlus forum have confirmed the new stock OTA build, which brings Android version 5.0.2 Lollipop and is based on build number LRX22G. According to the release note, installing the update provides power improvements and security enhancements.
"Just Now received an update This includes Ok OnePlus! feature!! ( I was on 12.0-YNG1TAS0YL) for 598.4 MB".
The benchmark test result shared by the forum member suggests OnePlus One performed quite well in AnTuTu benchmark v5.7, when tested against a number of high-end rivals such as Galaxy Note 4, Galaxy S5, One M8, Xiaomi MI 4. It managed to score 49084 points. In the HTML5 Test, it achieved a browser score of 515 points out of 555.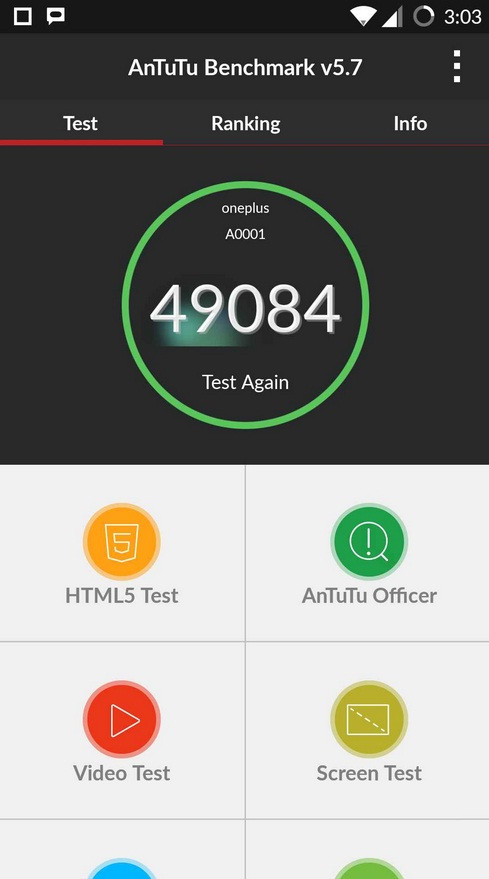 Steve Kondik, chief technical officer at Cyanogen shared a brief summary of the OTA update, which was suspended temporarily due to some bugs and the error in the voice wakeup.
Just FYI, the reasons why we stopped the initial rollout are because of a problem updating encrypted devices from 11 to 12, and a couple of bugs that we felt were critical enough to fix before continuing (mms/telephony/themes). We also had an error in our production build environment that broke voice wakeup.
Here's what we are doing right now:
1. Rolling out the new bugfixed update to users already on CM12
2. Resuming rollout to users still on CM11 tomorrow (it's late here). You'll actually first see a small 8MB update which will prepare the device for the real update (required if you are encrypted), this will immediately be followed by the new CM12 update.
I apologize for the delays. This is why we do staged rollouts though. Lots of stuff (especially among a crowd like this that might not be in a fully stock state) is really tough to account for when doing OTAs, so we closely watch the diagnostic data and make our decisions based on it.
It's perfectly safe to sideload the build onto your device even if you're encrypted.
If you have not received the OTA notification, the following guides will help you manually install the update on your OnePlus One. You can use either of the methods depending on the root status of your phone.
OTA Download link [alternate link]
How to install Cyanogen OS 12 build YNG1TAS17L on OnePlus One [Instruction for non-rooted devices]
Step-1: Switch off your OnePlus One and reboot into recovery mode. Turn on the phone while holding Power and Volume Down buttons together until the phone responds. Within a few seconds you will be presented with the Recovery screen. Select Apply update from the list of available options
Step-2: On the next screen select Choose from internal storage
Step-3: Now select the storage device which should be 0/
Step-4: The OTA download file should be located on the Download folder, if you have allowed Chrome to automatically download the file. (If you have chosen a different location follow the appropriate directory to locate the OTA file
Step-5: Tap on the downloaded CM12 file and it will automatically install the update
Step-6: When the installation is completed, choose Reboot System now. Your phone will boot into the Cyanogen logo for about two to three minutes followed by the Optimization Application notification
Check out the video walkthrough for help.
How to install Cyanogen OS 12 build YNG1TAS17L on OnePlus One [Instruction for rooted devices, TWRP recovery]
Step-1: Reboot your OnePlus One into recovery
Step-2: In the TWRP recovery, select Install
Step-3: Select the downloaded OTA file
Step-4: Do a swipe on the Swipe to Flash option
Step-5: Select Wipe Cache/Dalvik from the recovery menu
Step-6: Finally select Reboot System
Note: After selecting Reboot System, you might be prompted to Install Super SU root app. Go ahead and install it.
That's it. Your OnePlus One should be running the latest Cyanogen OS 12 build YNG1TAS17L.