The President of Czech Republic has sparked outrage after appearing at a press conference holding a fake weapon with the words "for journalists" inscribed on it.
Milos Zeman showed a replica of an AK-47 at an event last week as Czechs voted to elect billionaire Andrej Babis as prime minister. Babis' appointment attracted some criticism as some fear the magnate's media dominance could create a conflict of interests. He owns two of the country's leading newspapers and a radio station.
This is not the first time Zeman has attracted criticism for his stance against the press. In May, the head of state suggested journalists should be "liquidated" during a conversation with his Russian counterpart, Vladimir Putin.
His office later said Zeman's remark was a joke and claimed that "journalists never understand bon mots," according to the New York Times.
The leader previously branded journalists as "manure" and "hyenas" and accused them of being "people who write about everything and understand nothing".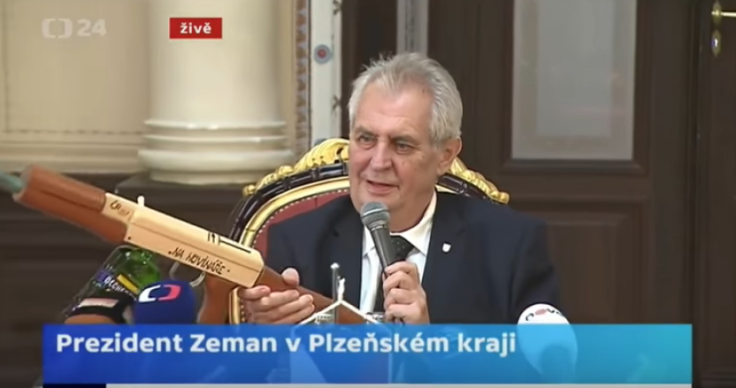 Zeman's latest stunt against journalists came days after high-profile journalist Daphne Caruana Galizia, who was investigating corruption in Malta,was killed in a car bomb in the country.
Galizia had been investigating revelations from the Panama Papers, the 11.5 million documents leaked from the law firm Mossack Fonseca. WikiLeaks founder Julian Assange has offered €20,000 (£17,828; $23,525) for information leading to the conviction of her killers.