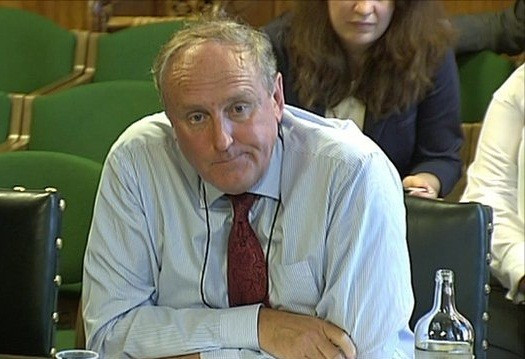 He may be famed for his foul-mouthed "Vagina Monologue" news meetings, where the four-letter word is allegedly bellowed at cowering journalists, but Daily Mail editor Paul Dacre is not likely to call Ed Miliband a c**t - at least not in print.
The ferocious row with Labour leader Miliband over a news article claiming that his father, Ralph, a highly-respected Marxist academic and writer "hated Britain", is the biggest crisis in a career that has propelled Dacre into the top echelons of power and influence.
Editor of the middle-market tabloid for more than 20 years, Dacre was dubbed the "Robert Mugabe of Fleet Street" by an impertinent Associated Newspapers director, due to his career longevitiy and Dacre's fearsome reputation.
His journalists may be subjected to profane tirades for displeasing this editorial despot but perhaps this rage is the secret ingredient to his publication's success.
"My job is to edit my newspaper, to have a relationship with my readers, to reflect my readers' views and to defend their interest. It is not to offer myself up to you or television or radio interviewers as some authority on anything," Dacre told MPs back in 2004.
The Daily Mail is famous for its trenchant conservative social values and disdain for all things left-wing, even though Dacre, raised in an anonymous north London suburb, admits he was liberal as a student.
"If you don't have a left-wing period when you go to university, you should be shot," he once said.
Now he says that "the problem is Britain's liberal class".
While you will find cutting critique of the news organisation's journalism and politics, mostly on Twitter and blogs, Dacre, who is paid £1.8m a year, oversees one of the UK's most popular newspapers because it chimes with the beliefs and prejudices of middle England, the middle class and the middle-minded.
Dacre has orchestrated incredibly popular and populist narratives built around the fears, insecurities and paranoia of the readership. The state of property prices, health issues, immigration and crime are the staples that provide the ballast of the Mail output.
He makes sure that whatever story it pushes, with raging front-page headlines such as "End this human rights insanity", it is pitch-perfectly in tune with his readership's views.
The paper is sometimes subject to a form of cognitive dissonance: bemoaning the sexualisation of children in one article, then fawning over how grown-up a child star looks in another.
But this does not stop Dacre's brand of moralising selling by the bucketload. Despite the very difficult climate for newspapers the Daily Mail still sells over two million copies a day - making it Britain's second most-read newspaper.
As for the website, Dacre has guided MailOnline to more than 130 million unique users a month - making it one of the top news sites in the world.
Perhaps the most famous moment of his editorship was in 1997 when he ran the headline "MURDERERS" with the pictures of five suspects in the racist murder of black teenager Stephen Lawrence - despite them having been acquitted.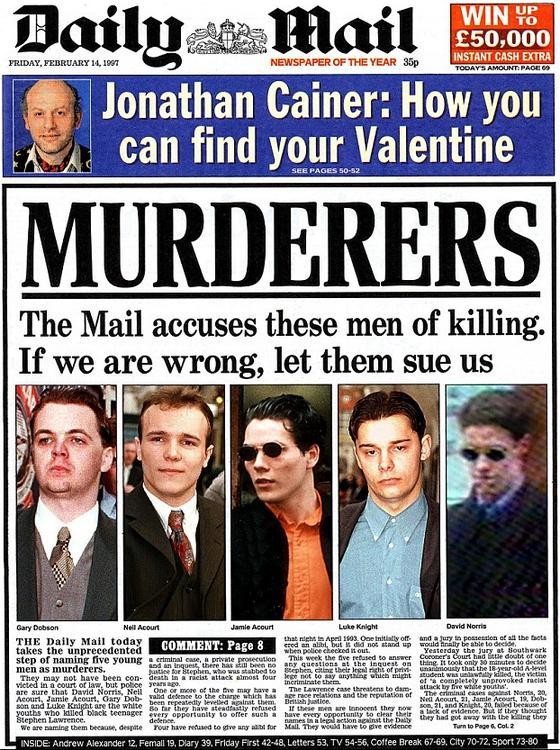 Underneath it read: "The Mail accuses these men of killing. If we are wrong, let them sue us."
In 2011 two men were sent to jail for the attack, both of whose photos appeared on the Mail's famous front page
Following Lawrence's murder in 1993, Dacre took a personal interest when he found out that his house had been decorated by Neville Lawrence, Stephen's father.
He has pushed his paper to cover the ongoing saga and to help the Lawrence family's campaign for justice that was finally realised in January when two of the accused were finally imprisoned for murder.
Despite hitting 65 and having suffered a bout of ill health, Dacre is apparently unassailable in his position, with the Daily Mail owner, Lord Rothermere, unlikely to push him out of the editor's chair in the near future. Indeed, he has just signed a new contract giving him at least another year in the post.