While admittedly not everyone's cup of tea, the 2010 film The Other Guys proved that Mark Wahlberg and Will Ferrell were a duo that could undoubtedly deliver in the comedy department. Similarly, their latest film together, Daddy's Home, exhibits the same kind of reluctant teaming-up plot as their last. Only this time, they're not a couple of mismatched detectives working together to prove themselves, they play two reluctant fathers – each of the biological and step variety –who attempt to put aside their differences for the sake of the children in their lives.
Our verdict
Ferrell plays Brad, a timid radio executive who has always wanted to be a father, but thanks to a somewhat unusual accident in a dentist's office involving some lasers, has never been able to have any children of his own. So when he meets and marries Sara (Linda Cardellini), he makes it his only goal to be the best stepfather he can be to her two children; Dylan and Megan.
Using his trusty Step-By-Stepdad handbook and applying himself to as many parenting duties as he can, from school drop-offs to coaching the basketball team, Brad notices that the children are slowly warming to him and being a part of the perfect family unit is an achievable goal. That is until their real father, Dusty, turns up out of the blue.
Unlike Brad, manipulative freeloader Dusty (Wahlberg) is beefed-up, good-looking and ineffably cool. But apparently, those things come hand-in-hand with responsibility issues and means that his unexpected visit swiftly begins to upturn all of the groundwork Brad has put in with his new family, threatening to turn Dylan and Megan against him, and his more rule-abiding ways, for good. Bedtime stories soon share obvious parallels to the rivalry between the two father-figures and Brad faces fierce competition when it comes to Megan's upcoming Daddy/Daughter dance at school.
Pitting the children against each other, Brad and Dusty soon result to school-boy tactics to try and win their affections and of course, like most Ferrell movies, completely bonkers scenarios ensue as a result. Fans who have followed Ferrell's career and seen a lot of his work will know he typically plays the wacky and loud character, who relies on over-the-top physicality to execute his gags, but here, he has to tone it down a lot. Almost like an understated Stepbrothers, Daddy's Home is more about getting its laughs through its ridiculous lines and presenting its audience with familiar situations rather than craziness on screen.
Much like We're The Millers, a film in which Anders acted as screenwriter but not director, the humour borders on silly, however, whilst the former film was rated a 15 and had its fair share of adult jokes, Daddy's Home sometimes comes across held back by its more family-orientated 12A rating. Its tamed tone is understandable given its subject matter about family but those looking for crude and brash humour seen in films such as Ted or Anchorman, might be left feeling a little cheated.
The most out-there it gets is in a scene which features a brilliant-but-brief cameo from Ant-Man's Bobby Cannavale, who plays fertility expert Dr Francisco here. A professional who has an eerie familiarity with the contents of Dusty's trousers. Such knowledge that unsurprisingly enough enables Ferrell and Wahlberg, quite literally, to have a manhood-measuring contest. The 'ultimate' way a gentleman can one-up an opponent right? According to Anders, apparently so – ergo, it has to be demonstrated on screen.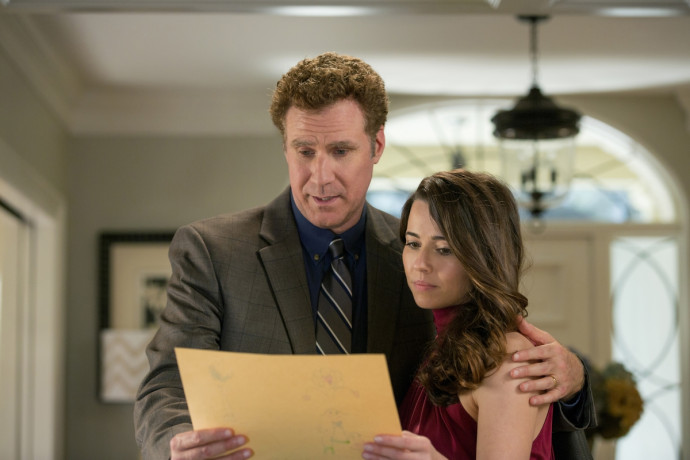 As the tie that brings both Dusty and Brad together, Cardellini is sidelined for a lot of the movie which is a shame given her obvious talents. Whether she could be channelling her inner wacky Velma again circa her Scooby Doo-era or getting her teeth into more emotionally poignant moments reminiscent of her performance in Netflix's family drama Bloodline, she's never allowed any such scene and is so obviously underused.
In a complete juxtaposition, however, the rest of the supporting characters get just the right amount of screen time. From Brad's boss Leo (Thomas Hayden Church) who constantly shares awkward stories about how all of his ex-wives have scammed him, to handyman-turned-housemate Griff (Hannibal Buress) who gets awkwardly invited into the family home after Dusty forces Brad to fire him during a job.
There's no denying that this is Ferrell and Wahlberg's film though and despite its somewhat formulaic and completely predictable plot, they're given plenty of moments to shine or most importantly outshine each other. Daddy's Home doesn't do anything ground-breaking when it comes to the comedy genre but it delivers a fun-to-watch movie that is sure to make you laugh out loud and that's all you'll really want from it anyway.