Dallas shooting: Right-wing extremists blame Black Lives Matter for police officer murders
Some extremists have compared the black activist group to the Ku Klux Klan.
The aftermath of the Dallas shooting has opened the floodgates for people across the political spectrum to call for change on gun control, racism and criminal justice. Even conservative politicians Paul Ryan and Newt Gingrich have called for criminal justice reform on gun control and criminal justice.
The world was shaken by the three high-profile shooting events in the US this past week – the fatal shootings of five police officers in Dallas, and those of African-Americans Anton Sterling and Philando Castile – but people from America's right-wing are blaming the civil rights activist group Black Lives Matter (BLM) for the deaths.
Texas lieutenant governor Dan Patrick told Fox News that the BLM movement was to blame for the deaths of the five police officers, who were killed on 7 July in Dallas.
"I do blame people on social media, with their hatred toward police," Patrick said on Fox News Friday. "I do blame, I saw [Rev.] Jesse Jackson, I think it was on Fox the other night, calling police 'racists' without any facts. I do blame former Black Lives Matter protests – last night was peaceful, but others have not been… this has to stop."
American news aggregation website Drudge Report featured a headline that read "BLACK LIVES KILL".
American extreme right-wing TV personality Tomi Lahren – who last week accused Grey's Anatomy actor Jesse Williams of waging a "war on cops" after his BET Awards speech – ignited backlash for her take on the Dallas police shootings, comparing BLM supporters to white supremacists.

"Meet the new KKK, they call themselves 'Black Lives Matter' but make no mistake their goals are far from equality. #Dallas #bluelivesmatter," tweeted the 23-year-old. Her tweet has now been deleted, but a screengrab of it has been widely shared on social media.
Lahren went on to claim BLM supporters "are openly applauding this war on cops". She also laid blame on President Barack Obama and US Attorney General Loretta Lynch, saying it's "highly unlikely" either "will come out and sob about this too".
Former Illinois Republican congressman and right-wing radio host Joe Walsh apparently threatened the life of President Barack Obama on Twitter. "This is now war" he wrote. "Watch out Obama. Watch out black loves matter punks. Real America is coming after you." Threatening the life of a sitting US president is a federal offence.
Walsh has since deleted the tweet, but he continued posting video of the chaos in Dallas throughout the night.
He later added that Obama "stoked the flame" and "defends Islam".
Eric Trump, son of presumptive Republican presidential nominee Donald Trump, reportedly retweeted a post by Walsh accusing BLM of calling for the death of police officers. However, the retweet does not appear on Eric Trump's Twitter account page.
Conspiracy theorist and radio host Alex Jones who runs the libertarian website Infowar claimed on a Facebook Live video that the Dallas police shootings were a "globalist, leftist takeover… a destabilisation program, a civil war in the making", orchestrated by Obama, Clinton, George Soros, Google and Media Matters for America – an organisation that monitors right-wing media for inaccurate statements and reporting.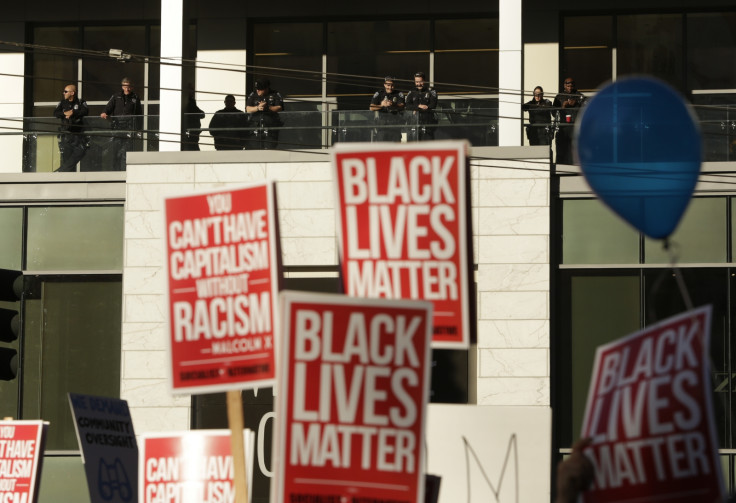 Conservative writer Donn Marten called Senator Elizabeth Warren an "accomplice" in the "calculated murder" of police officers in Dallas, Raw Story reports.
"Democratic party nominee Hillary Clinton's hatchet-woman Elizabeth Warren may as well be an accomplice in the now out of control outbreak of racial violence in America that resulted in the calculated murder of at least five Dallas police officers on Thursday," Marten wrote. "Pocahontas sought to exploit emotions in a dangerous way in the aftermath of the unfortunate shooting of a black man by Minneapolis police.
"Looking to fan the flames of racial animosity in order to get black voters whipped up into a highly agitated state so as to gain politically, the cigar store Indian took to Twitter on Thursday to stir up anti-cop sentiment with a series of missives," he wrote.
© Copyright IBTimes 2023. All rights reserved.