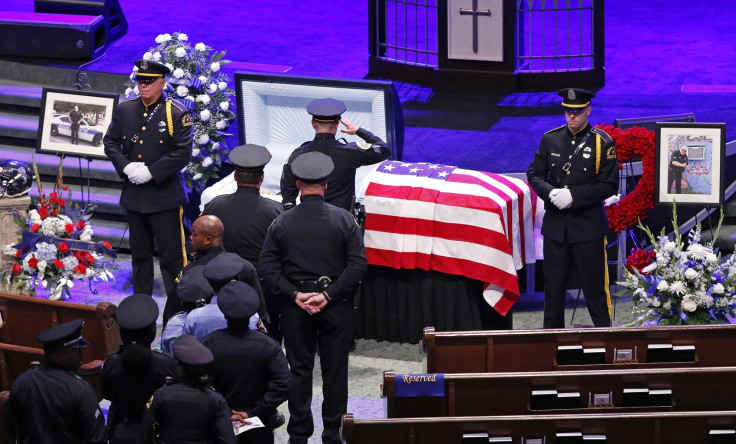 Memorial services for three of the police officers killed by a gunman in Dallas earlier in the month attracted thousands on 13 July. Services for the other two officers killed will be held on Friday 15 July and Saturday 16 July.
Services were held for Dallas Police Sergeant Michael Smith, Dallas Police Senior Corporal Lorne Ahrens and Dallas Area Rapid Transit Officer, Brent Thompson a day after top officials gathered in Dallas for a memorial service.
A few hundred people attended the Catholic funeral service at Mary Immaculate Catholic Church in the suburb of Farmers Branch for Smith. The former US Army Ranger joined the Dallas PD in 1989 and once earned a "Cops' Cop" award from the Dallas Police Association, ABC News reported.
A public service at a Dallas church where Smith worked security is scheduled for 14 July.
Mourners in the Dallas suburb of Plano attended a service of Ahrens and learned of his time with the Los Angeles County sheriff's department.
According to ABC News, the service for 43-year-old Thompson drew hundreds of law enforcement officers to Dallas megachurch The Potter's House. Funeral services for Thompson, the first DART officer killed in the line of duty since 1989, were scheduled for later in the day in Corsicana.
"I know Michael is in the arms of god now. I have no doubt. I know he's watching over us, guarding us," Thompson's sister said, according to CBS New York/AP.
Thompson's wife Emily, also a DART officer, added, "Though I'm heartbroken I'm going to put on my badge and uniform, and return to the streets just like my brothers and sisters in blue."
His daughter delivered an emotional farewell to her father. "One thing I would always to my dad was 'goodbye daddy, be safe,' and today we say our final goodbye daddy, we love you, be safe."
The funeral for Dallas Police Officer Michael Krol is scheduled for Friday, 15 July, while the funeral for Dallas Police Officer Patrick Zamarripa is set for Saturday, 16 July.