Daniel Cormier reinstated as UFC champion, says Jon Jones has 'made a mockery of the sport'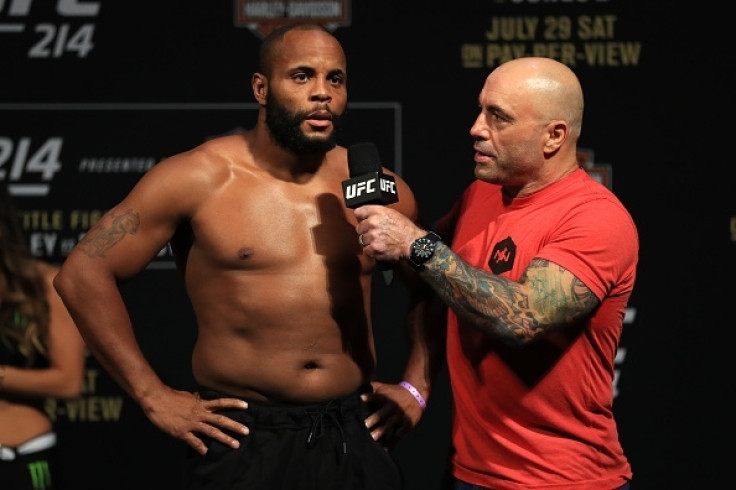 KEY POINTS
Cormier revealed that he is once again the light heavyweight champion.
The 38-year-old's loss to Jones was overturned after his B sample came back positive.
Daniel Cormier has been reinstated as the UFC's light heavyweight champion once again after the California State Athletic Commission (CSAC) overturned his defeat to Jon Jones.
Cormier lost his title to Jones at UFC 214 on 29 July at Anaheim, California after he was knocked out by the Endicott native in the third round via headkick and punches.
However, it was revealed late in August that the newly-crowned champion had failed another United States Doping Agency (USADA) drug test after testing positive for the banned substance Turinabol.
It was then reported on Tuesday (12 September) that Jones' B sample had come back positive as well, meaning that he will now undergo the adjudication process with USADA.
The CSAC proceeded to overturn his win, meaning that Cormier got the loss erased and now has a no-contest in his updated 19-1-1 MMA record as well as his title back.
"If it's a no-contest, then the fight didn't happen," Cormier said on UFC Tonight on Wednesday (September 13). "[Dana White] said, 'If one of you guys would have missed weight, he would have won the fight, but you still would have kept the belt. Because of that, the championship is getting returned to you.'
"The fight is a no-contest. If he cheated, he could not have fought and cheated and still won the fight. Once again, I'm the UFC champion."
"DC" accepts that people will criticise him by saying he was handed the belt again, but states that, financially, having the title makes a huge difference.
"People will say stuff like, well you got handed the belt," Cormier added. "He cheated and the reality is for me to say, 'I don't want this title,' when I was gonna be in a championship fight anyway. Financially, it's just a big difference if I don't fight as the champion as opposed to fighting for the title."
Cormier also believes him getting the belt back is the right thing to do as despite the natural abilities Jones has at his disposal, he ended up making "a mockery of the sport" once again.
"He disqualified himself for taking a steroid before the fight, so it didn't happen," Cormier explained. "So now I get the belt back, which is the right thing to do. And I'm not only saying that because it's me. It's the right thing to do. You don't cheat the sport, you don't cheat the fans, you don't cheat me.
"You have all the physical advantages, Sir. You're 30 years old, you're 6'4", you've got an 85-inch reach. I'm 38-years-old. I would love to take stuff and not have to wake up every morning and walk down my stairs sideways," he said.
"We had one of the biggest fights of the year. Once again, this guy has made a mockery of the sport."
© Copyright IBTimes 2023. All rights reserved.