Danny Dyer and Mark Wright fight: Pair seen smiling and chatting after violent V Festival brawl
EastEnders star allegedly threw the "first punch" at Wright's friends in the ruckus.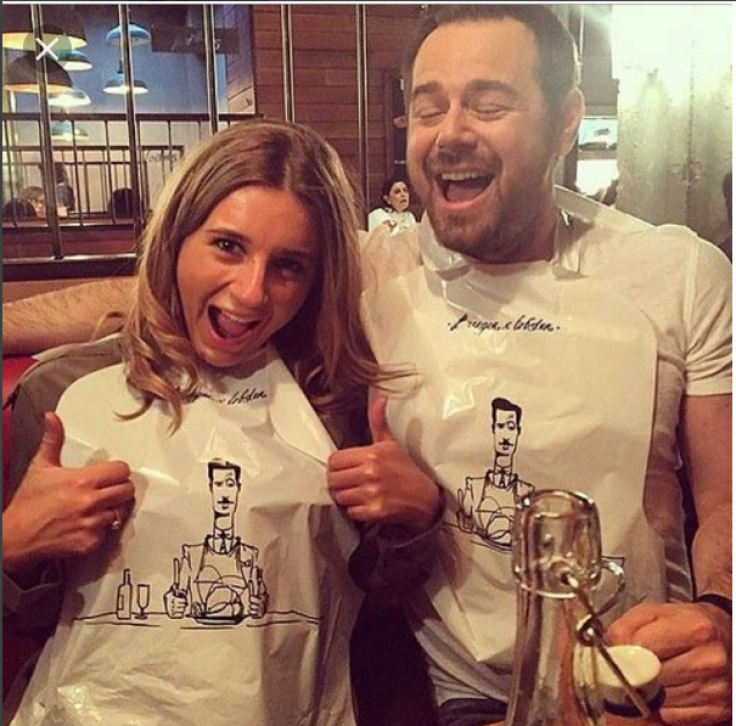 The Danny Dyer's brawl at V Festival with TOWIE star Mark Wright's friends has seen more eyewitnesses come forward.
The EastEnders' hard man was caught in a heated exchange which left him with a swollen eye at the music festival in Essex on Sunday (21 August). The events unfolded in front of his 20-year-old daughter, Dani. However, a bystander now claims that Dyer and Wright were allegedly seen chatting and shaking hands after the confrontation.
A 36-year-old woman who witnessed the violent incident claims Dyer threw the first punch. She told The Sun the ruckus began after Dani shouted abuse at Wright's friends when she spotted the TOWIE star's three pals walking from the VIP Mahiki area.
The woman, who was a guest of Mahiki, told the publication: "I saw a young woman shouting at the three men calling them c**ts cover and over again. She was screaming and shouting, 'Mark Wright is a c**t!'"
She then saw one of Wright's friends tell Dyer's daughter to "shut up." She claims the 20-year-old aspiring actress became more aggressive and abusive about Wright – who is married to former Coronation Street star Michelle Keegan – even though he was nowhere to be seen. Wright was also at the festival and posted pictures of his time at the event on his Instagram page.
The witness continued: "One of Mark's friends tried to get her to go away and told her to 'shut up' but she wouldn't stop shouting, it was like she was trying to provoke them as she was in their faces and getting louder and louder – it was then that Danny Dyer came round the corner to intervene and I saw him throw a punch at one of them."
Dyer attended the festival with his fiancée Jo and Dani as part of their stag and hen weekend. He allegedly confronted Wright's friends – with his EastEnders co-star Danny Boy Hatchard – after he overheard their exchange with his daughter. The situation quickly escalated after the eyewitness saw Dyer step in and start "throwing punches" while daughter Dani was overheard by witnesses shouting, "I'm going to kill you!"
"Danny looked like he was trying to protect his 'hard man image' as he was the one who threw the first punch at one of the lads while the other guy, who I recognised off EastEnders, started throwing punches at another one – there was a third lad there who was trying to calm down the situation between the two sets of lads," she continued.
"Once the first punch was thrown, Mark's friend who was hit by Danny fought back and a bit of a scuffle took place.
"Danny's daughter was still shouting when Mark Wright arrived – he looked really shocked and rushed over to try to stop things getting worse.
"Danny was shouting at his daughter to 'shut up' too – I didn't realise it was his daughter until he told her to stop – then security pulled Danny and Danny away from Mark's friends and when Mark turned up at the scene it all stopped," she added.
And it appears as though the former TOWIE star offered Dyer an olive branch as he stumbled across the confrontation.
The witness went on: "Mark reached out for Danny and shook his hand and they had a chat afterwards – it seemed like it was all water under the bridge as they both smiled, shook hands again and walked away. It seemed friendly in the end."
But after Wright tweeted yesterday (22 August): "Seen some stories online today about v festival. I would like to confirm that I personally wasn't involved in any physical confrontation," Dyer was quick to reply.
The actor responded: "No.True. Where was ya?? Do you wanna declare who ya snakey 2 Bob mates are?? Especially the 1 squaring up to my Dani".
Dani posted a moving message on Instagram yesterday following the aftermath. She wrote: "The only comment I'm even gonna say is my dad is the strongest person I know he isn't a fighter just because he plays good acting rolls as a hard man does not mean he is that in real life.
"I admit I was shouting that mark Wright is a c***. Because his silly mates thought it was okay to barge past my dad knowing he was drunk, my heart is broken as I witnessed the whole thing.
"My dad is such a sensitive loving person who wouldn't want to hurt a fly. 5 on 1 is never fair. But I love you papa and seeing that just proved how I would have wished to have smacked them in the mouth. Love you xxxxxx[sic]," she added.
Today (23 August), the youngster tweeted that she was done with the media storm. She said: "Just want everyone to chill today. I am not in the media to be spread around with rumours. I just want to succeed with my acting.
"It is horrible everyone having opinions and trying to say I'm foul mouthed. I have never been one to start a fight I just am protective," she added.
Read the original story on the Danny Dyer and Mark Wright 'spat' here.
© Copyright IBTimes 2023. All rights reserved.