Bandai Namco has announced the first story expansion for FromSoftware's critically acclaimed Dark Souls 3. Called Ashes of Ariandel, the DLC will launch on 25 October for PS4, Xbox One and PC via Steam, and is the first of two expansions for what has been touted as the final Dark Souls game.
Ashes of Ariandel includes a new location filled with brand new enemies, as well as new weapons, armour sets and magic for players to use. The second expansion will be released in "early 2017" according to a press release.
"Return to the world of Dark Souls 3 and uncover a terrible secret that lies within an unnamed frozen land," reads the press materials.
"Players will find themselves steeped in a brand new environment filled with terrifying new enemies, challenges, and exciting lore to fill out the overarching Dark Souls 3 storyline."
The new features and bosses are teased in the announcement trailer above. Several screenshots were also released alongside the announcement, offering a better look at the expansion's frozen location.
Released in April 2016, Dark Souls 3 is the latest in FromSoftware's Souls series - which began in 2009 with Demon's Souls and also included 2015 PS4 exclusive Bloodborne - if not in name, then certainly in spirit.
In our review of Dark Souls 3, which is believed to be FromSoftware's farewell to the Dark Souls series, we called it "an absolute masterclass in action RPG design," adding: "While the superbly visceral gameplay, intense boss fights and improved online features mark FromSoftware's latest out as one of 2016's best, Dark Souls 3's flickering fire is ultimately engulfed by its own bright history."
Those screenshots are included in the gallery below.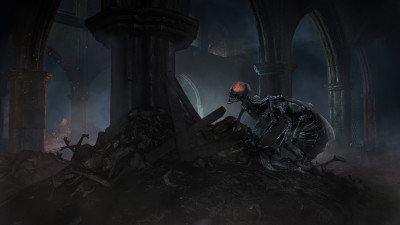 For all the latest video game news follow us on Twitter @IBTGamesUK