Manchester United manager Sir Alex Ferguson is optimistic over Darren Fletcher\'s continued recovery from a chronic bowel condition after the midfielder made his first appearance since November against Aberdeen at Pittodrie.
Fletcher has spent nine months out with ulcerative colitis which after missing all of United\'s pre-season games looked set to further delay his return in the new season.
Ferguson has already confirmed Fletcher would not start the season due to the illness, leading to doubts that his long-term footballing career was in jeopardy, fears which have been eased by his 60-minute cameo appearance in Neil Simpson\'s testimonial.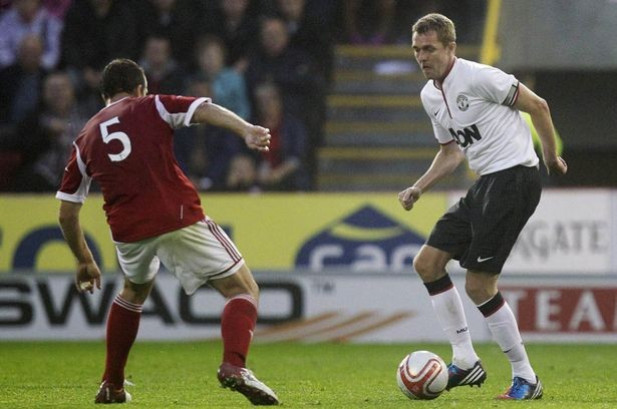 \"I\'m delighted and you saw the response he got, which was fantastic,\" Ferguson said. \"Well done to the Aberdeen supporters who gave him a rousing reception and he deserves that for his contribution to Scotland\'s national team as he\'s been terrific for them.
\"For Darren, it\'s great to be back and I hope it\'s the start for him. We don\'t know as we\'re all aware he\'s got this issue he needs to deal with and he\'s dealing with it very well at the moment. What we\'ve seen tonight is encouraging for us.\"
\"It\'s been a quiet progress for the boy,\" Ferguson added. \"He joined in training a couple of weeks ago and it\'s one of these situations where you say: \'Let\'s see how he does\' because he has had a really difficult time in the last year.
\"Therefore, I wasn\'t really placing too much hope in it but let\'s see how he does. He\'s got to the stage now where he feels he needs a game. He\'s been training really well.\"
Prior to Scotland\'s friendly against Australia, Fletcher was invited by manager Craig Levein to train with the squad, leading to the offer from Ferguson to feature against Aberdeen.
Scotland\'s captain last made an appearance for his country 10 months ago against Liechtenstein and will be keen to participate in their World Cup qualifying campaign which starts next month with home games against Serbia and Macedonia.
The 28 year old hasn\'t featured competitively for his club since November\'s win over Swansea City; missing the remainder of a campaign which saw neighbours Manchester City claim the Premier League on a dramatic final day.