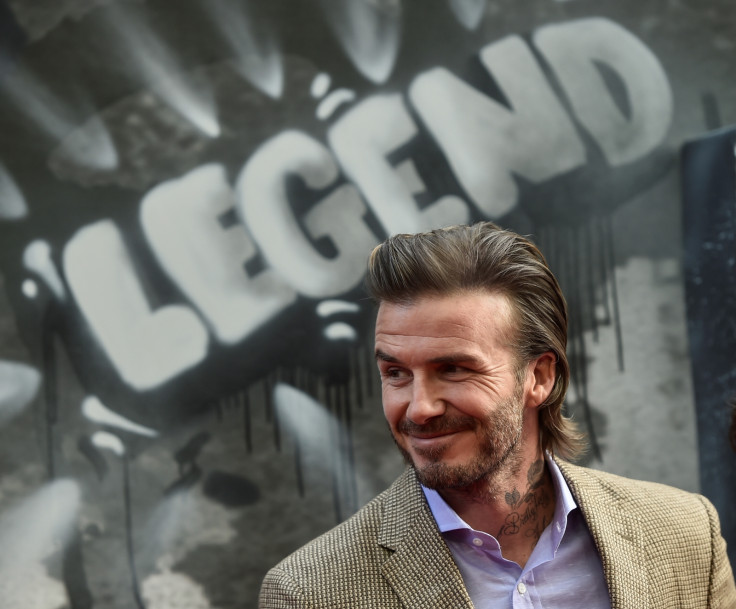 Celebrating his acting debut, David Beckham walked the red carpet at the King Arthur: Legend of the Sword European Film Premiere in London's Leicester Square on Wednesday (10 May).
In what was something of a father-and-son moment, the former footballer, 42, was accompanied by his son Brooklyn, 18, as he shared the spotlight with the cast of the Guy Ritchie film.
Beckham plays a tough knight, Trigger, in a brief cameo role for which his famous visage was transformed using prosthetics.
However his dramatic performance in a snippet from the film left viewers cringing as movie-goers took to social media to pan the football star's acting skills. "This is the worst piece of acting I have had the misfortune to witness," said one.
Another tweeted: 'The only thing I took away from King Arthur is that David Beckham can't act. And I think I already knew that.'
"Just heard a clip of Mr David Beckham in the new King Arthur film oh god it's cringe ...' wrote another.
Another said "I think David Beckham's cameo in King Arthur has kind of put me off watching it."
The former England player appeared unconcerned by the negative response to his performance as fans of the star leapt to his defence, praising his efforts.
The ex-Manchester United star responded with a defiant tweet saying: "It was a pleasure to work with the @kingarthurmovie team on such an amazing film #KingArthur."
Earlier, Beckham shared a behind-the-scenes look from the set of Guy Ritchie's King Arthur: Legend Of The Sword in which he discussed the process of turning into his character, Trigger.
Commenting on his changed appearance with the use of prosthetics, he said: "To see what the guys did to me was incredible."
He added that he enjoyed the experience of being on set with good friend Ritchie, who 'looked after' him through the experience.
"The good thing about working with Guy is that he's a good friend of mine. He looked after me in many different ways. I trust him," Beckham said.
"My role is pretty small in this and I had one or two lines. I've been around Guy's movies before and it's a great place to be. You kind of love that community feel."
Star of the film Charlie Hunnam, 37, stopped to hug Beckham as the pair posed for photos and took selfies with fans.
Earlier the actor revealed that Beckham took the role seriously and was fully invested in the experience.
Speaking to Men's Health he said: "I was over at Guy's one day doing some jiu jitsu. David was there, and we had a bit of a roll around," he recalled. "The minute I started working with him there was such clarity as to how and why he is the superstar he is.
"He just took it so seriously. I mean, he could have just shown up, done the cameo, not really been that invested and just had a bit of a laugh.
"But he worked with an acting coach and came determined that he was going to do a good job. It just became instantly clear how this has all happened for him. He takes everything as f***ing seriously as a heart attack."
Starring Charlie Hunnam and Eric Bana, King Arthur: Legend of the Sword releases in the UK on May 19.