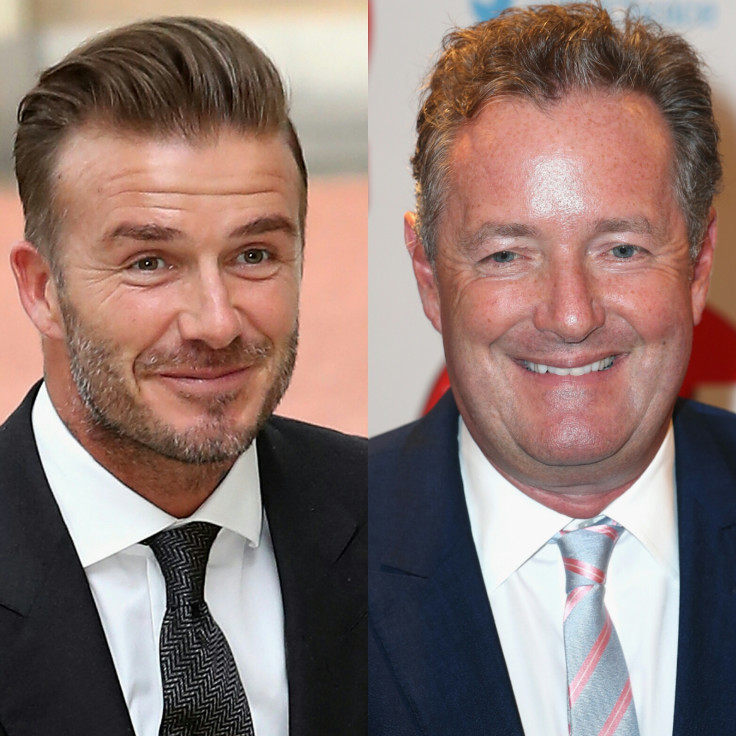 A clip of David Beckham's first-ever acting cameo from Guy Ritchie's new King Arthur film was recently aired on Good Morning Britain, and it looks like the football legend has failed to impress his biggest critic, Piers Morgan. Not only did the show's host poke fun at the English athlete's emphasised accent in the video, but also sarcastically rooted for his Oscar-win.
Criticising Beckham's acting debut, the 52-year-old journalist commented that the aspiring actor sounded like "the third Mitchell brother". The former Manchester-United player stars as a disgruntled knight in the Guy Ritchie film with a scar right across his face.
In the clip, the armour-clad Trigger – played by Beckham – is seen bantering with Charlie Hunnam's King Arthur. "Where do you want me?" Hunnam asks, to which he replies, "Bouncing on my knee. Where do you think I want you?"
The repartee between the two continues, with the former footballer sharply instructing Hunnam's character to grip the sword "with both hands". This particular moment sparked further criticism from Morgan.
Failing to hide his reaction, the TV personality took another jibe at Beckham's cameo following this scene. "I thought it was a very, very good performance," he said before mocking, "It's Oscar-level excellent."
Morgan, who is known to have bad blood with the 42-year-old athlete, went on to make few more sarcastic comments. "Will David Beckham be able to make it in Hollywood?" he rhetorically questioned. "Probably not. Well done David Beckham, you're a brilliant actor. The Oscars are looming... both hands!"
Earlier, the TV host had slammed Beckham as a "fraud" following an email-leak scandal. He had even questioned the former English captain's charity works and clean public image in the aftermath of the controversy.
Surprisingly, soon after the GMB host critiqued Beckham's acting skills, several viewers too flocked to social media to share their not-so-pleasant feedback. "Who told David Beckham he can act? Probably the same person who told Victoria she can sing, oh dear," shared one Twitter user.
Another took cues from Morgan's comments and tweeted, "David Beckham 'Hollywood star' less wood in my chopping board!"
Early reviews on Beckham's performance might not look good, but the aspiring actor surely knows the drill. "I know that it is a tough profession, where you need a huge amount of skill and discipline, and I wouldn't want to push myself forward too soon, without learning more about it, and doing a lot more practice," Beckham has said.