David Cameron, Nick Clegg and Ed Miliband provide boost for affairs website Ashley Madison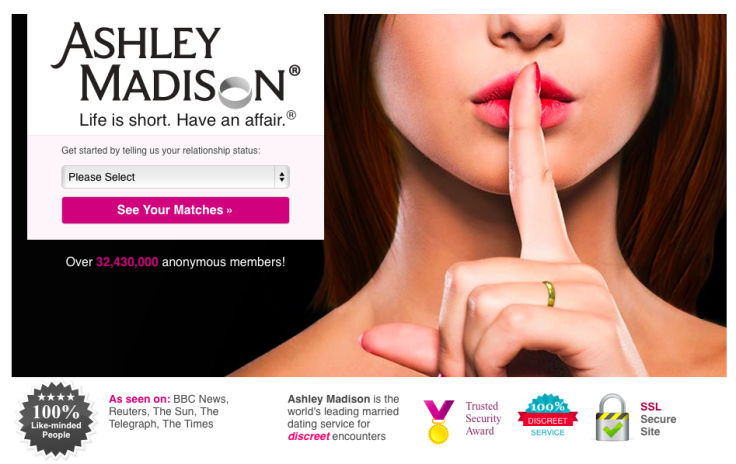 Ashley Madison, an adultery website that connects married men and women looking to have affairs, could see revenues rocket by as much as 73% in 2015 to $200m (£132m, €180m) – helped in part by the British general election.
The company has revealed hourly sign-ups to the site soared during the recent TV debates, and may lead the firm to a $50m profit when it announces its results later in 2015.
During the first debate, involving Britain's seven main political parties, Ashley Madison saw a 56% increase in sign-ups. The firm saw a 107% rise during the second and a huge 190% spike when the third was televised. The final debate, broadcast at the end of April, saw sign-ups increase 221%.
However, the most startling figures come from Scotland, where during the week of the Scottish referendum in September 2014, the daily sign-up rate increased by an average of 631% in the country.
Christoph Kraemer, the company's European spokesperson, told IBTimes UK: "Perhaps the independence referendum got people too heated, or bored, and they turned to Ashley Madison."
Membership rates in Scotland, Wales and Northern Ireland are all growing faster than England, with female membership increasing 10% faster than male sign-ups across the UK.
The extramarital dating website, which is plotting a $200m London IPO, now has 1.2 million members in the UK.
Growth at the company, which has more than 34 million users globally, has been buoyed by a series of international launches in Asia. It now has a presence in 46 countries including India, South Korea and Japan, where growth is up 500% over the year.
Kraemer added: "There is an obvious need for extramarital dating sites as something is lacking in marriages all over the world from Tokyo to Buenos Aires. We've seen exponential growth in places like Japan and India, where we recently launched. What's most interesting is that in every country we have seen success, so it proves that we are all the same."
The firm plans to expand into Russian, Ukraine and the Baltic states in 2015. Globally, a new member signs up to Ashley Madison every four seconds.
The Canada-based infidelity service's parent firm Avid Life Media has tried to list the company in the past but has come up against investors hesitant to get the deal off the ground on moral grounds. Some brokers have already said they would be hesitant to act for the company in any potential IPO.
Kraemer said Ashley Madison has also come across opposition from advertisers. He added: "Ironically, we've even been refused advertising space by a company owned by Silvio Berlusconi, of all people."
© Copyright IBTimes 2023. All rights reserved.