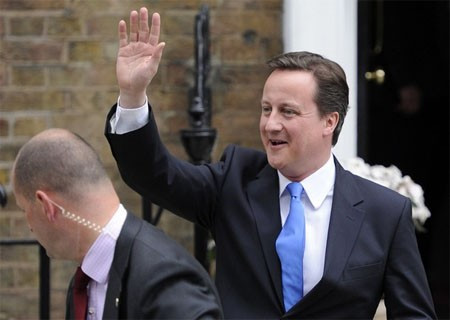 David Cameron has been appointed Prime Minister following the resignation this evening of Gordon Brown.
Mr Brown, as is required by the constitution, visited Her Majesty the Queen together with his wife and children to tender his resignation, following a brief statement outside 10 Downing Street.
During the statement he said that he had recommended that the Queen call upon Conservative leader David Cameron to form the next government.
Speaking after his appointment Mr Cameron said he intended to form a full coalition with the Liberal Democrats. He did not give details on the arrangement but said that he believed it would "throw up all sorts of challenges".
It is rumoured that the Liberal Democrats could gain some significant seats at the cabinet table in a new government. It is also believed that part of the deal involves the Conservatives dropping their plans to cut inheritence tax and introduce tax breaks for married couples. In addition it is believed the Lib Dems proposal of raising the income tax threshold to £10,000 will also be adopted by the new government.
However details of the talks have been kept under wraps by both parties.