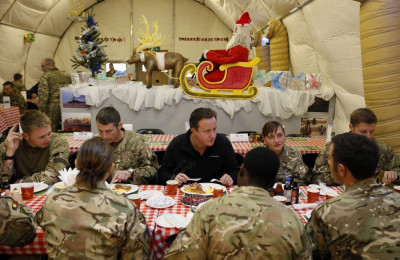 Prime Minister David Cameron has paid a Christmas visit to troops serving in Afghanistan, just days after announcing thousands of them would be returning home next year.
Upon arriving at Camp Baston in southern Helmand province, Cameron even suggested troops could be withdrawn from the country sooner.
Cameron announced the decision to cut numbers from 9000 to 5,200 next year, with plans for a full withdrawal by 2014.
However, he told reporters at the camp "there is always flexibility in any plan."
During his visit, Cameron admitted Britain and the army has paid a "heavy price" for its involvement in the 11-year Afghanistan conflict, but overall it has been a worthwhile decision.
He said: "We have paid a very heavy price but I think the reason for coming here in the first place, which was to stop Afghanistan being a haven for terror ... I think it was the right decision.
"Of course this is a deeply challenged country, it has huge levels of poverty and instability and problems.
"But it's a far better place than it was here when we came in 2001 - the economy has grown, there are more children in school, there are more health services available. And there is, crucially - because this is our main national interest - there's an Afghan army and an Afghan police force."
More than 400 UK personnel have been killed during the conflict and Cameron took time to remember those who have died.
"It is tough, it is difficult, we paid a high price and I once again pay tribute to all those who have fallen and their families and their loved ones who miss them so much," he said.
The Prime Minister also hand-wrote a Christmas message that is being faxed to all the patrol bases in Helmand province
It read: "As a country we are always immensely proud of our Armed Forces, but this year you have made us prouder than ever.
"The professionalism and valour you have shown in Afghanistan has been remarkable and we can see real progress, with the successful handover to Afghan forces well under way. We should remember at this time especially all those who have been wounded or paid the ultimate price - and our prayers go out to their families."
Cameron has since travelled to Oman where BAE Systems has agreed a £2.5 billion contract to supply military aircraft. Cameron added: "Our military really are the best of the best and we cannot thank them enough."