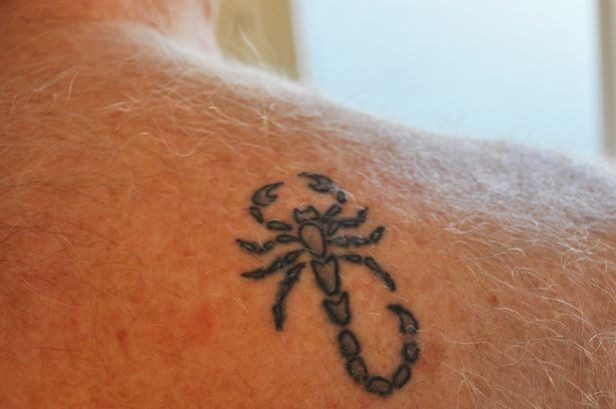 David Dimbleby's new scorpion tattoo has a hidden meaning among some members of the gay community: it shows the wearer is infected with the Aids virus.
A man infected with HIV - which can lead to Aids - told CNN that getting a scorpion etched into the skin was a ritual for some people after discovering they had the virus.
Nick Colella said: "It's basically saying, 'I'm positive and you need to know that, especially if we're going to engage in any intimate relation.' It has that meaning."
The HIV virus is represented by the sting at the end of the scorpion's tail, which appears curled round to the right on Dimbleby's tattoo.
There is no suggestion the BBC presenter knew about the alternative meaning of his new tattoo. Other symbols worn by HIV sufferers to denote their status can include the toxicity sign or the red ribbon.
Explaining why he got inked at age 75, Dimbleby said: "You are only old once. I have always wanted a tattoo. I thought I might as well have it done now. It's a dream come true for me.
"It took about 30 minutes - an hour in all - and I thought of Winston Churchill having his done while mine was being done," he said.
"It wasn't painful at all, it just zings a bit. It's modest.
"It can't be seen unless I choose to show it to someone. I'm rather fond of it actually, this little scorpion sitting on my shoulder ready to attack my enemies."
Churchill had an image of an anchor tattooed on his arm.