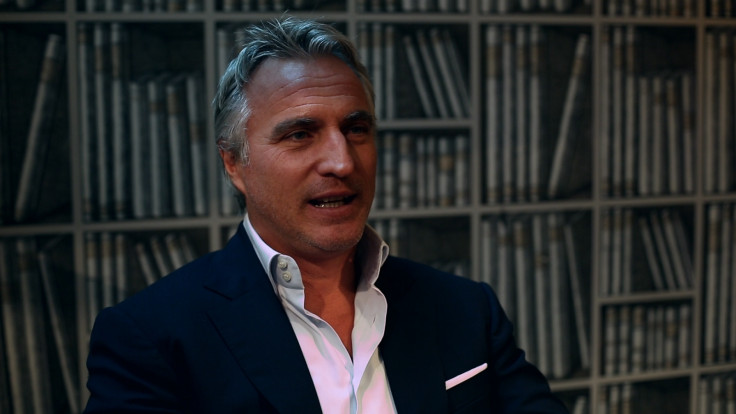 David Ginola has said he is "fine" after undergoing a quadruple heart bypass operation. The 49-year-old collapsed while playing football in Mandelieu, southern France yesterday (19 May), where he was attending a celebrity golf tournament.
The football star was treated at the scene by paramedics. He was given seven shocks with a defibrillator due to an irregular heartbeat, before being airlifted to the Monaco Cardio-Thoracic where he underwent surgery overnight.
Professor Gilles Dreyfus who performed the surgery explained that the French sportsman did not have a heart attack, but said he was in "a catastrophic state" when he arrived at the hospital. "He arrived in a catastrophic state," he told Sky News. "He was unconscious and did not remember anything. But it is going well. I have been able to talk to him. He does not show any neurological after-effects.
"He did not have a heart attack, but he had very complicated coronary lesions which required us to perform a quadruple bypass. We began the operation at 1900 and finished between 0100 and 0130 (local time, from 1800 to between midnight and 0030 BST)."
Describing the incident, he said the footballer was "lucky to be alive" and credited the rapid response of the emergency services team for saving his life. "David played a sort of charity football match. All of a sudden he collapsed and people thought it was a joke but after one or two minutes they realised it was serious," he told BBC News. "Fortunately there was one person who had been trained in CPR, because otherwise he would have been brain dead. They then called the emergency services, who arrived eight minutes later with him in cardiac arrest.
"I was speaking to the captain and he was telling me the girl who was in the ambulance only knew where the football field, which isn't an official one but a private one, was because she had seen it that morning and asked somebody what it was. If she hadn't then most likely she would not have found it within the timeframe to save him.
"They arrived with him in cardiac arrest, he was shocked four times on site, they were able to restore a normal heart rhythm and within 10 minutes a helicopter arrived to transfer him to Monaco Heart Centre.
"I made the decision to transfer him to the operating theatre and he immediately underwent a quadruple heart bypass, which was very straightforward although difficult. This morning he woke up perfectly normally with no neurological damage and is now recovering from a bypass like anybody would normally do.
"It was a sequence of events that at every stage went absolutely fine, that is why he is here today," he added. "Luckier you can't be. It's an unbelievable story."
Reports regarding his condition quickly circulated on social media as fans and friends of the former Newcastle and Tottenham expressed their concerns for his health.
The former Premier League player had earlier minimized his condition, suggesting that he had passed out while playing football in the sun on the French Riviera. "Footy match in the midday sun, not very clever. Now having some tests done. Whoever voted for a World Cup in Qatar in the summer?"
However, as more details of his surgery emerged, he reassured fans that he is on the road to a full recovery. A message from his Twitter account read: "Hello world, never slept better. I'm fine, just need to rest a bit. Thank you so much all of you for your magnificent support."
Ginola will remain in hospital for 10 days and is expected to make a full recovery.