On the eve of meeting US President Donald Trump in the White House, Theresa May has told Republicans in Philadelphia that Britain and the US need to shift their approach on foreign policy.
In comments that will be seen as a direct indictment of the West's wars in Libya, Iraq and Afghanistan, the British prime minister said the two countries still had a responsibility to lead, but had to take a more measured approach.
Despite her comments, May also said she and Trump had to stand united against the threats of Islamic extremism and the rise of economies in Asia.
"So we – our two countries together – have a responsibility to lead," she said.
"Because when others step up as we step back, it is bad for America, for Britain and the world.
"This cannot mean a return to the failed policies of the past. The days of Britain and America intervening in sovereign countries in an attempt to remake the world in our own image are over. But nor can we afford to stand idly by."
May's message appealed to Trump's "America First" sympathies, but also to Brexiteers back home who would like to see greater emphasis on domestic policies.
But the prime minister's cosying-up to Trump in an attempt to secure a UK-US trade deal is also likely to spark anger due to the president's recent remarks on torture, his assault on women's health and a spat with Mexico on the issue of building a border wall.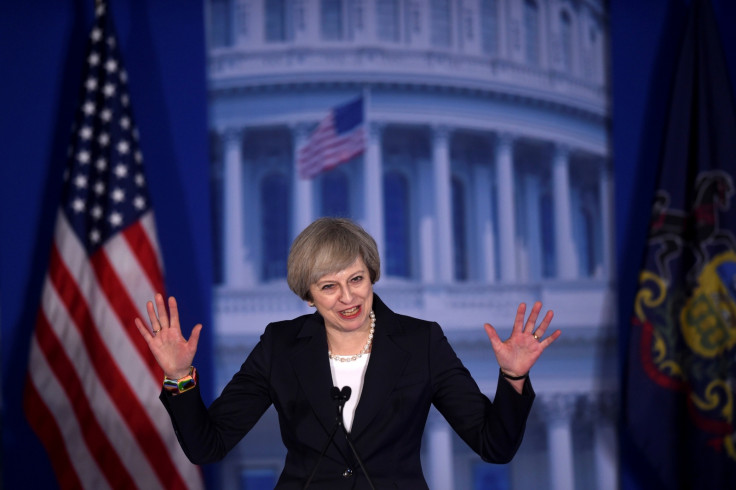 Opposite sides of the debate on Torture
On Wednesday (25 January), Trump used his first TV interview as president to say he believed torture "absolutely" works and that the US should "fight fire with fire".
However, signalling she is prepared to deliver tough messages to the Republican president, May said before arriving: "We have a very clear view: we condemn the use of torture, and my view on that won't change, whether I'm talking to you, or talking to president Trump."
May's speech on Thursday (26 January), however, made no mention of torture. Under British law, the use of torture would outlaw intelligence agency GCHQ from sharing its findings with the US, if it was to proceed with the practice.
May did however deliver a strong message to Trump about Russia and President Vladimir Putin, who Trump is seen to be sympathetic towards.
"When it comes to Russia," May said, "as so often it is wise to turn to the example of President Reagan who – during his negotiations with his opposite number Mikhail Gorbachev – used to abide by the adage 'trust but verify'. With President Putin, my advice is to 'engage but beware'.
"There is nothing inevitable about conflict between Russia and the West and nothing unavoidable about retreating to the days of the Cold War, but we should engage with Russia from a position of strength.
"And we should build the relationships, systems and processes that make cooperation more likely than conflict – and that, particularly after the illegal annexation of Crimea, give assurance to Russia's neighbouring states that their security is not in question.
"We should not jeopardise the freedoms that President Reagan and Mrs Thatcher brought to Eastern Europe by accepting President Putin's claim that it is now in his sphere of influence."