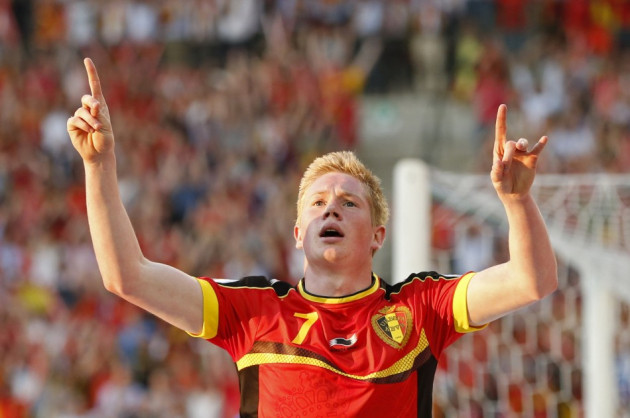 Kevin de Bruyne is assured to remain at Chelsea next season following a personal phone call from manager Jose Mourinho, the player's agent has revealed.
Upon his unveiling as the new Blues boss, Mourinho hinted that De Bruyne and fellow Belgian Romelu Lukaku will remain at the club next season following respective loan spells at Werder Bremen and West Bromwich Albion, but admitted he had not spoken with either player.
De Bruyne joined Chelsea in January 2012, but has yet to make a professional appearance for the Europa League winners having been back to Genk for the remainder of the 2011/12 season before his year-long spell in the Bundesliga.
But the 21 year old has now received assurances from Mourinho that he will receive first-team opportunities with Chelsea next season, ceasing any interest in earning a loan move away.
"Mr Mourinho gave a phone call to Kevin, explaining a little bit the situation for next season," the player's agent Patrick de Koster told Press Association Sport.
"Afterwards, Kevin played the game (for Belgium against Serbia), received congratulations from the coach and then he left on holiday.
"A year and a half ago when he signed a contract at Chelsea, it was like a dream which became reality. Afterwards it was important for Kevin to put the right steps at the right moments.
"Kevin wants to play. Playing football, he became a better football player. I think he proved it staying six months more in Genk and last season in Bremen.
"He did very well. Now it's up to him to prove the same thing at Chelsea.
"We didn't receive any guarantees, but it's normal in a team like Chelsea," added De Koster. "It's up to him to prove like he did in the last 18 months."
De Bruyne was understood to have agreed a deal to join Bayer Leverkusen on loan as part of the deal to bring Andre Schurrle to Chelsea, but confirmation of the German international's move to Stamford Bridge saw the ex-Genk player remain in west London.
Borussia Dortmund had registered an interest in bringing De Bruyne to the club on loan, but Mourinho's wants the player to play a part in his second coming at Chelsea.