Hurricane Matthew, the strongest storm to hit the Caribbean and the Atlantic coast of the US in a decade, has killed at least 283 on the island nation of Haiti as the Category 3 storm wends its way north, pummelling the eastern coast of the US.
Haiti's Interior Ministry has confirmed the death toll in the country's remote south-west after Matthew hit on Tuesday (4 October). It has taken days for the total number of dead – which is expected to rise – to be revealed after communication and transport links to the region were cut by the storm.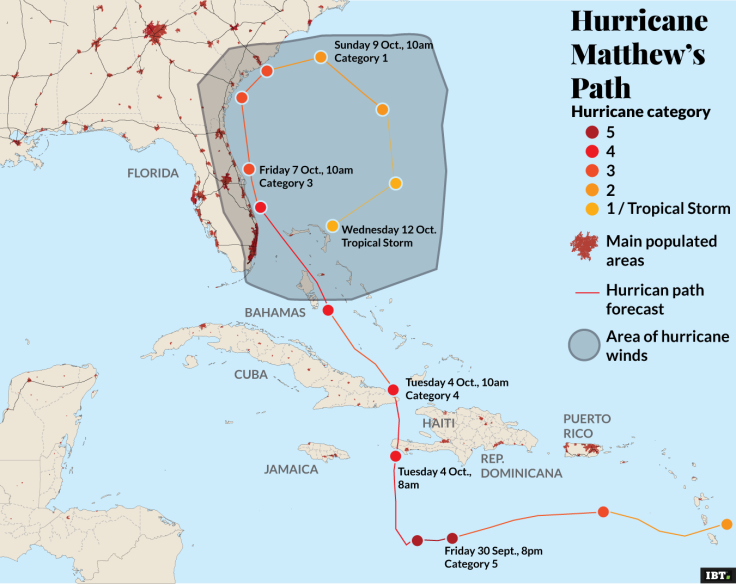 Bodies have started to appear as waters recede in some areas two days after Matthew smashed concrete walls, flattened palm trees and tore roofs off homes, the Associated Press reported.
In Florida, where rain has drenched the south-eastern tip of the peninsula, the effects of the storm have initially been less than expected. However, the weather system is expected to continue wreaking havoc in the state for another 24 hours.
The strongest winds, 120mph just offshore, menaced more than 500 miles of Atlantic coastline. Two million people were warned to flee inland with only a very small minority opting to stay in their homes.
More than four million inhabitants in Miami and Fort Lauderdale were spared the worst of the storm which Florida governor Rick Scott had warned was a monster and would likely lead to casualties in the US as it had done in the Caribbean.
As it continues its northward trajectory, forecasters have said Matthew would pass through Cape Canaveral and Jacksonville. The hurricane was expected to pass close to the coast of Georgia and South Carolina over coming days before veering out to sea. It may pass Florida a second time, perhaps looping back toward Florida in the middle of next week as a tropical storm.