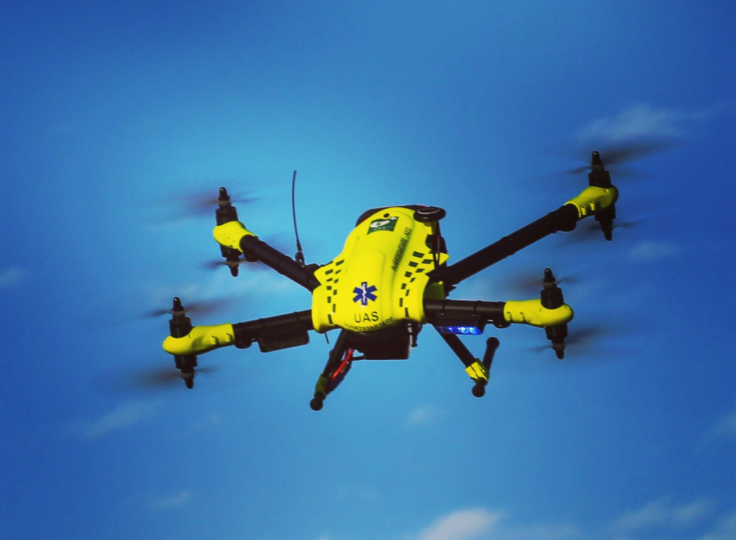 An experiment in Sweden has found that drones equipped with defibrillators are far quicker at reaching someone suffering a heart attack than a conventional ambulance.
Researchers stationed a drone at a fire station in Norrtalje, a rural location near Stockholm, and flew it on 18 flights to locations within 10km where real heart attacks had taken place over the past eight years.
The drone managed to deliver the defibrillator in an average time of five minutes and 21 seconds over the 18 flights, compared to the average ambulance dispatch time of 22 minutes.
Although still only a trial for now, the experiment shows how genuinely life-saving a medical drone could be. Every minute without CPR and a defibrillator lowers a heart attack patient's chance of survival by 10%, according to New Scientist.
Jacob Hollenberg, of the Karolinska Institute in Sweden, who set up the experiment, said: "If we can decrease the time in cardiac arrest from collapse to defibrillation by a few minutes, hundreds of lives would be saved each year...Hopefully we will be up and running within a year or two."
Current consumer-grade drones like the DJI Phantom range are currently able to fly for around 20 minutes at a time and can cover several miles. But researchers in this experiment used a much larger drone, built by FlyPulse and equipped with eight rotors instead of the usual four, weighing 5.6kg and painted in the same colour scheme as local ambulances.
Despite defibrillators being designed with instructions intended to be understood by anyone, not just medical professionals, there is the need for more training of CPR, said Adrian Boyle of the Royal College of Emergency Medicine in London. Boyle told New Scientist: "One of the things we are bat at in the UK is teaching bystanders CPR, which would arguably be a much lower tech, more useful intervention than this."