Tissues at the ready.
Shirley Bowes, an elderly resident at a North Carolina care home, sufferers from an unusual misapprehension as a result of her dementia.
She doesn't understand that she is a guest at the Twelve Oaks facility in Mt. Airy. In fact, she thinks she is a member of staff there.
According to her husband John, this "role" gives her a sense of purpose and makes her feel valued so he and her carers do not try to discourage it.
The team at Twelve Oaks and Shirley's family recently got together and decided to give her a special award: Employee of the Month.
I don't think there were many dry eyes in the room," said Administrator Penny Haynes.
"This was definitely one of those times you will never forget. It reinforces why caring for the elderly is so important."
Shirley was was overwhelmed to receive the commendation, which read: "This certificate is awarded to Shirley Bowes. Thank you for all your hard work and dedication to Twelve Oaks residents and staff. We love you."
She sobbed with joy as she took the framed prize and a bunch of flowers from one of her 'colleagues' before being embraced by husband Jim and her son John Jr.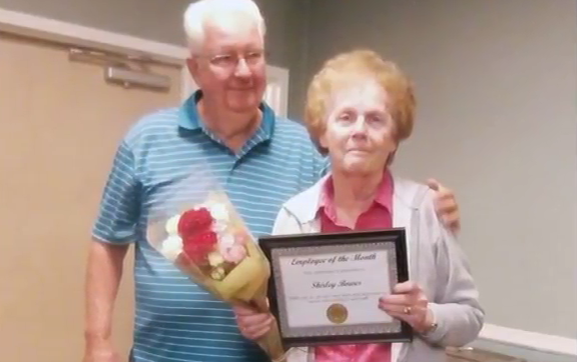 John Jr., Junior Reserve Officer Training Corps Instructor thanked the staff at Twelve Oaks, saying: "In my line of business I often get thanks for my service. Today, I want to thank each and every one of you for your service. This has been a wonderful experience for Mom."
An estimated seven million Americans suffer from dementia. Symptoms include a loss of memory, understanding, increased confusion as well as personality changes.
Here's to many more years of Shirley's exemplary service.