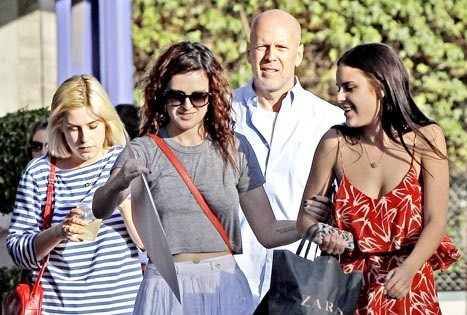 Demi Moore's daughters are reportedly considering a restraining order against her in a bid to help their mother with "tough love".
Rumer, Scout and Tallulah, Moore's children from her marriage to Bruce Wilis, are said to be fed up with their mother's destructive behaviour following her public split from Ashton Kutcher.
Moore, 49, was admitted to hospital with exhaustion and reported substance abuse in January, just weeks after separating from Kutcher.
This behaviour is reported to have caused several arguments, exacerbated by Moore's incessant attempts to contact her children.
An insider revealed that things reached breaking point when Moore expressed her frustration that the girls were still in contact with Kutcher, who she suspected of having an affair during their six-year marriage.
The insider told celebrity site Radar Online: "The girls have all stayed friends with Ashton, and that is infuriating Demi.
"Ashton cheating on Demi humiliated her, and when she got out of the relationship she thought she was setting a good example for her daughters, so when they stayed close to Ashton it devastated her."
Meanwhile, a source close to Moore told Closer magazine: "Everyone had hoped Demi was getting back to normal after rehab, but Ashton being pictured with Mila [Kunis] has floored her - she's having mood swings and barely eating.
"Her girls want to support her, but have made it clear they want her to start eating, get over Ashton, and start taking care of herself. They love her dearly, but have realised being supportive wasn't helping so have taken a 'tough love' approach."