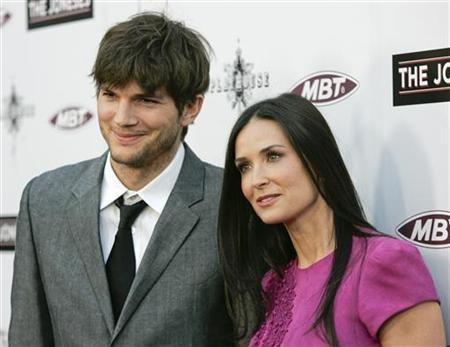 Demi Moore has announced that she is to divorce her toy-boy husband Ashton Kutcher following weeks of speculations that he cheated on her.
The Hollywood actress claimed in statement that it was with "great sadness and a heavy heart" that she was calling time on her six-year marriage to the Two And A Half Men star.
Moore made not so subtle references to the recent allegations that Kutcher had with slept 23-year-old Sara Leal at a San Diego hotel room on the eve of their wedding anniversary in September by saying: "As a woman, a mother, and a wife, there are certain values and vows that I hold sacred and it is in this spirit that I have chosen to move forward with my life."
The 49-year-old actress, obviously still taking in the shock of her husband's infidelity asked the media for time to grieve her failed marriage.
"This is a trying time for me and my family and so I would ask for the same compassion and privacy that you would give to anyone going through a similar situation," she said.
Kutcher headed to Twitter last night to share the sad news with his fans. He tweeted: "I will forever cherish the time I spent with Demi. Marriage is one of the most difficult things in the world and unfortunately sometimes they fail. Love and Light, AK."
It was almost the perfect bitter-sweet ending, as the couple gave millions of fans a glimpse into their marriage by frequently using Twitter to communicate with each other . They frequently sent romantic messages to one another even after the reports of trouble in paradise surfaced.
Even though neither of the stars has ever officially commented on Kutcher's affair, they reportedly sought relationship counselling after the allegations rocked their marriage.
This will be a difficult time for Moore who thought it was third time lucky when she married the Butterfly Effect star, who is 16 years her junior, at the Kabbalah Centre in Los Angeles in 2005.
Moore was previously married to singer Freddy Moore and Die Hard actor Bruce Willis. She and willies have three daughters together- Rumer, 23, Scout, 20, and Tallulah, 17.
Do you think Demi is doing the right thing or does Ashton deserve a second chance?