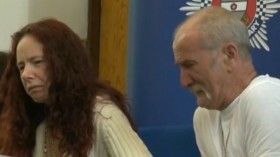 A woman accused of killing six of her children in a house fire has described her husband as a guardian angel who came into her life when she was at her lowest point.
Mairead Philpott told Nottingham Crown Court she had hit "rock bottom" when she met her future husband, Mick Philpott, after she had gone though a string of abusive relationships.
Mick and Mairhead Philpott, along with third defendant Paul Mosely, are charged with manslaughter. They deny the charges.
On her first day of giving evidence, Mairead Philpott denied that she or the other two defendants had started the fire at her home or that they had asked someone else to start the fire in order to frame Mick Philpott's mistress, Lisa Willis.
Willis, 28, had been living in the property with her five children - four of them fathered by Philpott - but left two months before the blaze.
When Shaun Smith QC, representing Mrs Philpott, asked if she would ever put her children at risk, she replied: "No, never."
She described how hearing that her six children had died made her feel lik her "insides had been ripped out".
The court heard how she had agreed to Willis living in her home along with her husband as she was scared to lose him. She described Philpott as her "guardian angel". "[He] cared for me and loved me and made me feel safe," she said.
The court heard how she had been abused by her father when she was three or four years old and that she had been raped as a teenager.
After the father of her firstborn, Duwayne, left her when she was pregnant at the age of 16, Mairead Philpott told the court her next relationship was an abusive one.
She told the court that her then boyfriend would regulary give her black eyes and shave her head so that she was too embarrassed to leave the house.
When asked about the unconventional living arrangement with her Philpott and Willis she said: "Maybe to others it was [unconventional] but to us it was a happy family.
"I loved him and didn't want to lose the family we had."
The three suspects are accused of starting the fire in an attempt to frame Willis as part of a custody battle.
Jade Philpott, 10, and her brothers John, nine, Jack, eight, Jesse, six, and Jayden, five, all died in the fire at their home. The eldest, Duwayne, 13, died three days later in hospital.
The trial continues.