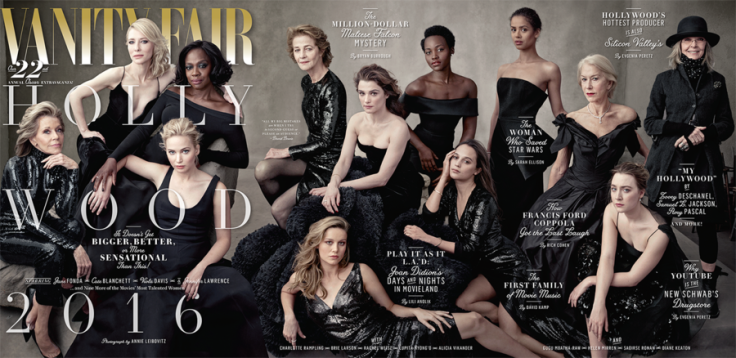 Vanity Fair's collectable Hollywood issue has had its glossy red carpet finish shaken up by the legend who is Diane Keaton. While the issue traditionally features influential male and female actors, this one is named 2016 Women In Power and presents a stellar cast including the likes of Saoirse Ronan and Charlotte Rampling joining Cate Blanchett, Alicia Vikander and Viola Davis in a sea of jet black silk, satin and sequinned gowns.
However, nestled in with this years awards favourites is the inimitable Diane Keaton who eschewed this year's glamorous dress code in favour of wearing her own clothes and immediately steals your attention away. The bowler hat, polka dot neck scarf and theatrical smock coat layered over leggings, a long-sleeved knit and studded boots in her confident but unassuming stance, she is just the most perfect antithesis of expected Hollywood glamour but without looking out of place.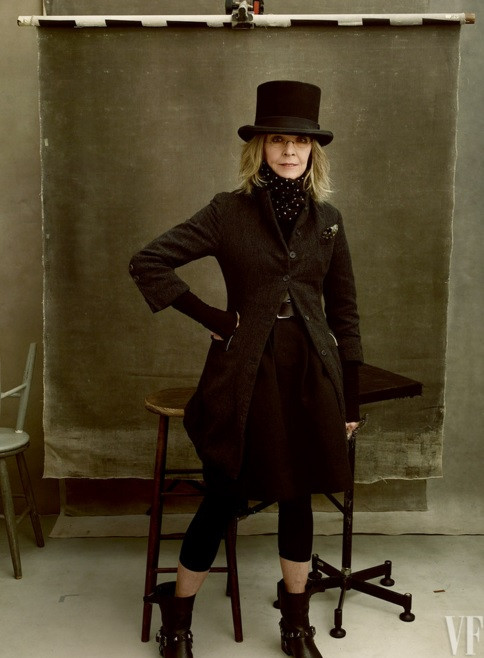 The shoot was shot by Vanity Fair stalwart Annie Leibovitz and styled by Jessica Diehl. Prior to the shoot, Diehl said she spent 45 minutes on the phone with Keaton discussing the direction for her look for the shoot and the pair had come together with the idea of a type of tuxedo. Diehl then recalled Keaton saying: "'Or I could wear something like my favourite person, Paul Harnden, but that's probably not dressed up enough.' And I was like: 'Yeah, maybe not, but wear it and when you get here, we can always see.'"
For anyone else, the stylist is usually the saviour but not for Keaton, who turned up in a Harden morning coat, Ralph Lauren pocket square and scarf and hat by Baron, the milliner for The Hateful Eight and Creed, and had clearly already sorted the look.
As Diehl said: "It worked out because she took the time, like a proper collaborator, to spend 45 minutes on the phone trying to figure out what we're doing as a bigger picture, and how she could fit in there." Even Leibovitz preferred Keaton's look to anything on the rack, so they went ahead with the shoot without anything more than a make-up retouch.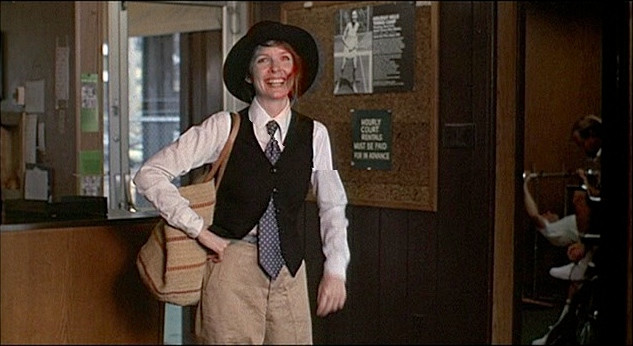 While the idea of these covers are as much about the clothing selected as they are about the actresses showcased, there are times when a someone has taken the shoot further than that and brings more to the overall shoot than a new outfit ever could. As Diehl said: "Sometimes, when you get somebody like that, who has taken so much time to hone her personal style, you're almost an idiot to try and improve upon that in five-and-a-half minutes."
We have to remember though that this is the woman who brought us the coveted and oft-copied look of Annie Hall, drawing upon the masculine tailoring of suits and shirts but transforming them into a totally feminine trend and did more for the waistcoat than Kate Moss wearing one at Glastonbury ever did.
Of course we are not the only ones to admire Keaton's lead performance on the magazine's cover as internet users have taken it upon themselves to improve even more infamous images with her incredible presence.
Our personal favourite is her inclusion in this year's hotly tipped flick for the best film Oscar, Spotlight, and once again, she fits right in.
The Vanity Fair Hollywood issue is on sale from 8 February.