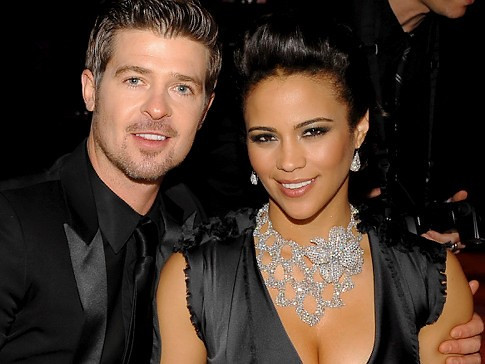 She was the love of his life. The woman he pursued relentlessly before finally winning her over in his early teens. But 20 years on and one child later, Robin Thicke's marriage to Paul Patton is over.
For many, news that the 36-year-old singer and stunning actress had called time on their eight-year marriage came as a shock because on paper they were the definition of a real life fairy-tale story.
Thicke first laid eyes on his wife at a club on LA's Sunset strip at the tender age of 14. Although she was almost 16 at the time, the then shaggy-haired, aspiring singer soon charmed her and just months later they shared their first kiss after he serenaded her in his bedroom.
Their would be happy-ending came in June 2005 when they exchanged vows. They welcomed their son Julian in 2010.
In 2013 and after years of marital bliss, cracks started to appear in their marriage when Thicke's controversial hit, Blurred Lines, catapulted him from small-time singer to international superstar.
The No 1 hit climbed charts across the globe and sold over 1.5million copies.
Within weeks, the pair went from lovey-dovey couple to scandal central when the trappings of Thicke's new found fame started to damage their 'perfect' marriage.
Not only did Thicke stop using his wife as the lead in his music videos, he traded her in for scantily-clad beauties instead.
The father-of-one soon found himself in compromising situations with women and he appeared to bask in the attention while Patton was forced to grin and bear it.
Even up until recently, Patton, who had carved out a career as a successful actress, played the role of the dotting wife.
In her cringe-worthy interview with Access Hollywood, the 38-year-old beauty claimed that she was okay with Miley Cyrus groping and twerking suggestively against her husband at the 2013 MTV VMAs.
When reports of infidelity and an image of him groping 20-year-old Lana Scolaro at a club emerged online, the Baggage Claim star still smiled for the cameras and stood by her husband.
Even though her loyalty never wavered, it wasn't enough for Thicke to stop publicly humiliating her. Just last month he was caught on camera getting a little too close with a pretty brunette at a club in Paris.
But it seems that his latest indiscretion could have been the straw that broke the camel's back.
"We will always love each other and be best friends, however, we have mutually decided to separate at this time," the pair told People magazine.
The PR-friendly announcement spoke volumes about the state of their marriage following months of denying it was even on the rocks.
"I don't know if I would still be alive in some ways if it wasn't for Paula," Thicke gushed about his wife before things turned sour.
"She's been my rock, my muse, my inspiration and I love her. The whole way."
If childhood sweethearts, who once only had eyes for each other, can so easily fall victim to Hollywood, what hope is there for other stars looking for long-lasting love?